This article is more than 1 year old
Gigabyte unveils touch-sensitive, twistable netbooks
Quartet of Atom-based tablets shown off
Gigabyte has launched a four-strong range of netbooks with twistable, tablet-style touchscreens.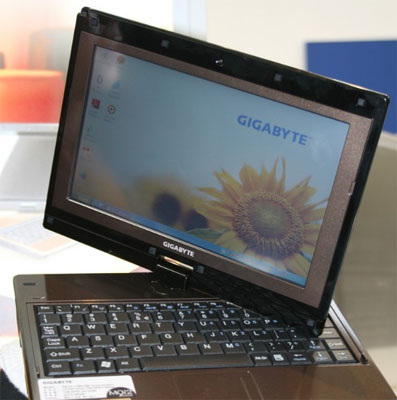 Gigabyte's netbook, with a twist
Images courtesy of SlashGear
The machines were unveiled by the firm at the ongoing CeBit show in Germany where, according to various online reports, Gigabyte said the M1028M and M1028G models of the 10.1in machine will have netbook-standard 1024 x 600 displays. However, the M1028X and M1028P models will have screens that sport a 1366 x 768 resolution.
All four will be loaded with a 1.67GHz Intel Atom N280 processor and come with 1GB of DDR 2 memory – expandable to 2GB. Intel's 945GSE chipset will also be included on all models, with the exception of the M1028P – which will have an "HD-capable" chipset.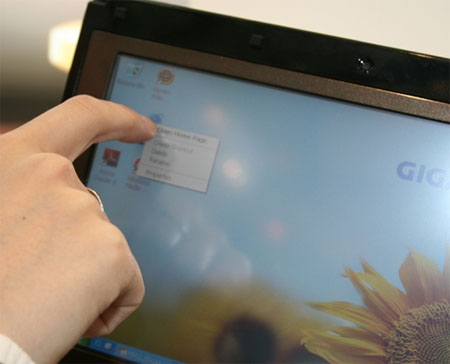 Touch-sensitive display, anyone?
A 160GB hard drive will be slotted into each machine, as will Wi-Fia/b/g and Bluetooth 2.1. An ExpressCard slot and three USB ports will also feature on all of the models, which come pre-loaded with Windows XP.
Launch dates or potential prices haven't been supplied yet. ®