This article is more than 1 year old
Polish Spitfire shoots down BNP
Anti-immigration poster pic blunder
The British National Party has pulled off a bit of a blinder by fronting an anti-immigration campaign with a poster featuring a Spitfire belonging to 303 Squadron of the RAF - the "most effective Polish squadron during the Second World War", as the Telegraph puts it.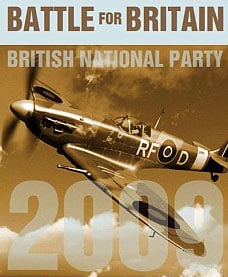 A spokesperson at the Royal Air Force museum explained: "The Spitfire in the poster can be identified as belonging to 303 Squadron of the Polish Air Force by the code letters 'RF' painted in front of the RAF roundel. 303 Squadron operated Spitfires from Northolt, Kirton-in-Lindsey, Coltishall and other RAF stations in the UK between 1941 and 1945 after flying Hurricanes in the Battle of Britain."
John Hemming, MP for Yardley, Birmingham, weighed into the BNP, mocking: "The BNP often get confused and this happens because they haven't done their research. This is just another example of them getting it wrong. They have a policy to send Polish people back to Poland - yet they are fronting their latest campaign using this plane.
"It is absurd to make claims about Englishness and Britishness fronted by this image. It's obvious they just picked an image at random and they are really clutching at straws if they say this was deliberate."
The BNP, however, really did insist it was aware of the plane's provenance, and spokesman Simon Derby defended it was "a symbol of the Battle of Britain and represented the economic struggle the country is facing at the moment".
He said: "It's not like the BNP are against Polish people as a nation. We are against Polish people coming over here and undercutting British workers. I mean how would the Polish people feel if their government started letting in millions of Vietnamese and letting them work for three bowls of rice a day. That's exactly what it's like over here at the moment - our government has let far too many people in."
The last major example of the Polish coming over here and taking our jobs was, as the Telegraph notes, during the aforementioned Battle of Britain when their pilots accounted for 203 Luftwaffe aircraft - roughly "12 per cent of total German losses".
303 Squadron's pilots were the only Polish military representatives invited to the 1946 London Victory Parade. Sadly, they were forced to decline "because no other Polish units were invited", the Telegraph concludes. ®