Epson EH-DM2 projector with built-in DVD player
Only needs a mains connection?
Review Will users get carried away by Epson's EH-DM2 portable projector that features an integrated DVD player and audio output?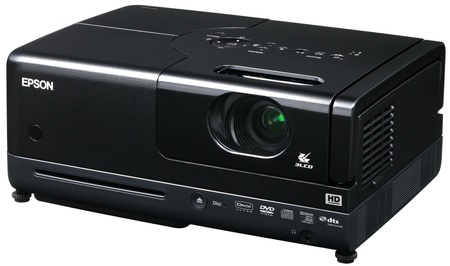 Epson's EH-DM2: more Volvo than Ferrari
First impressions are not good: this is not a curvy, sexy colour supplement-friendly machine. Think Volvo, rather than Ferrari. Yet if you're a movie buff who wants high-end performance, this is definitely not the machine for you. It does many things quite well, but it really suits folk who want to watch big-screen movies occasionally rather than the home theatre crowd.
The projector itself has a tough exterior, with its own integrated lens cover for keeping dust away from the lens when not in use. Quite a few machines could take a tip here - integrated lens covers are definitely the way to go. The unit also comes with its own built-in carry handle and a padded bag that makes the projector easy to move around. It grants some protection, though the bag is designed to protect the projector only from minor bumps and scratches.
The remote has a slight retro look about it and, to be blunt, is a brick. But its controls are well laid out and we liked some of the more quirky symbols, like a little coffee cup which, when pressed, ceases projection but keeps the disc cued up so you can take a break without leaving the picture on pause. Oft-used functions like Keystone correction are also easily identified and accessed. Since these are so often hidden away in sub-menus only available on the screen, this is a plus. Response time between remote commands and the on-screen graphics is also quick and accurate. The remote also has luminous buttons for control in the dark.
The projector itself isn't the smallest of its kind, but considering it's carrying a DVD drive and speakers, its 320 x 230 x 135mm dimensions are acceptable. Connection-wise there are component-video, PC RGB, component-video, and left and right audio inputs.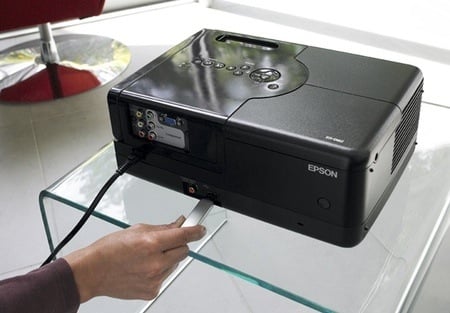 There's a USB port but no HDMI
There's also a coaxial digital audio out if you want to connect to something more serious than the unit's own pair of 8W speakers. And you get a USB 1.1 port for hooking up portable hard drives or cameras, and a headphone jack. In the minus column, there's no HDMI.