Epson EH-DM2 projector with built-in DVD player
Only needs a mains connection?
---
Playback options of course includes DVD, but also DivX 3 though 6, DivX Ultra, all the special of recordable and rewriteable DVD, MP3, WMA, JPEG, Video CD, Kodak Picture CD, FujiiColorCD, and MPEG 1, 2 and 4. HD is only catered for in 720p and 1080i resolutions, fed from the component-video jacks.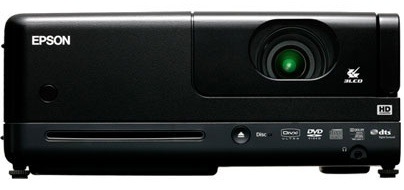 Three-LCD projection
Getting started is easy enough. The unit has adjustable feet with a good range, so it can cope with quite rugged terrain. The projector automatically detects a DVD's aspect ratio and disc format. As a rough guide, through the unit's 1200 ANSI lumens lamp, a 16:9 DVD displayed on a screen 2.3-3.2m (7.8-10.6ft) away will give you an 80in image. For a 150in picture - and we wouldn't recommend you try to go larger with this unit - you need to be able to back off between 4.4m and 6m (14.8-20.1ft).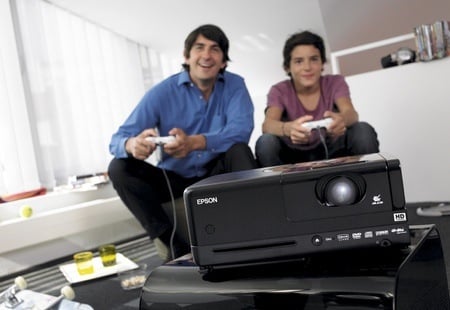 Good for gaming?
The EH-DM2 has no optical zoom. The picture can be adjusted digitally within the unit's native 480p (854 x 480) resolution, but reducing in this way is obviously going to cut the pixel count. The projector also kicks out some heat, so don't sit anyone directly to the right of the unit, which is where the hot air vents. Even so, the DM2 gets quite warm during playback, though it cools down quickly.
The fan isn't the quietest we've heard, either, but it is within acceptable limits.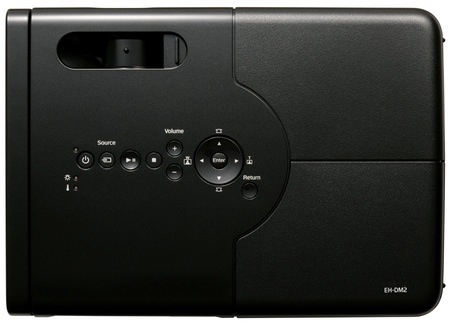 There's an integrated lens cover
Start up is fast. After just a few seconds, we had a decent looking test screen. Shove a DVD in the slot-loading and spin up is on a par with a decent standalone DVD player and quicker than some not-so-decent ones. The DVD picture can sometimes lack a little sharpness and we did notice on occasion a small amount of mosquito noise on the screen - and some of the 'chicken wire' effect that some LCDs get.