Epson EH-DM2 projector with built-in DVD player
Only needs a mains connection?
---
The colour reproduction we found to be fine, but with some weakness in producing really convincing blacks. We gave the DM2 Hell Boy II: The Golden Army to get its teeth into, and the movie's overload of primary colours and fast-paced images were given a decent enough outing.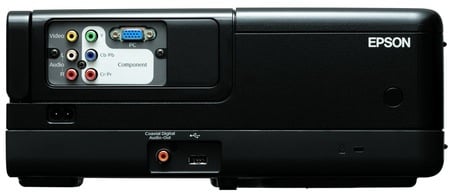 HD input limited to component-video
Some adjustment of the picture is available: brightness, contrast, colour saturation, tint, sharpness, colour temperature - the type of tweaks that are only going to please the casual user. There is also an easy to find status menu for information like lamp life.
Now, Epson says the unit has its own "surround sound" capability. That's pushing things a little far, and we strongly recommend you get something more capable to plug the unit into to handle the audio. That said, the sound isn't as weak as you might think. It's surprisingly clear, and there's a good degree of synchronisation between screen and sound (including vocals). Some 'surround' (ish) effects are detectable.
The other nice thing about having the audio on board is that it does mean you can take the unit to venues that don't have audio back-up to plug into.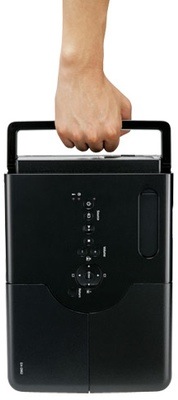 Carry handle built in
DVD isn't the EH-DM2's only party trick. The connection suite also means the projector can be connected to a PC, digital camera, digital receiver or games console. Performance is these areas is again adequate, but not impressive. But we tried some 'winner stays on' Tekken action and it worked well enough. PC connectivity takes things to another area again, allowing the EH-DM2 to play all your digital content. If you must use it for presentations, there's a guide on the product CD to getting rid of any screen burn should this occur with lots of static images on the screen.
Verdict
We liked the genuine usability and adaptability of this machine. The different inputs give enough flexibility to suit the type of user that it's aimed at: general consumers rather than home theatre buffs. However, its lack of HDMI and limited HD options makes the feature set feel a little out of date. It's a little on the pricey side too, especially since you don't get any of the necessary cables in the box. ®
More Projector Reviews...
| | | |
| --- | --- | --- |
| Infocus X10 | BenQ W500 | Samsung SP-A400B |

Epson EH-DM2 projector with built-in DVD player
It's never going to melt your eyes or ears, but the EH-DM2 delivers solid performance for the casual user.