This article is more than 1 year old
Amazon does video game trade-ins
Targets GameStop, publishers
Amazon.com has wandered into the long-standing cold war between video game publishers and retailers dealing in used video-game trade-ins.

The online vendor on Thursday launched a new pilot program where customers can receive store credit in exchange for wide selection of popular hand-me-down games.
It's presently accepting over 1,500 titles for varying amounts of Amazon credit. Once users select a game they own and want to exchange, the site provides a pre-paid label to cover the cost of shipping. After Amazon verifies it's the right game and in "good condition" (not damaged, includes original packaging), the customer receives a shiny new gift card deposited into their account.
The beta program currently accepts games from most of this generation's current game consoles, yet oddly neglects the PC as a medium for exchange.
Exchanges appear to be done by a third-party dealer, referred to in Amazon's trade-in terms of service as "the Merchant." There doesn't appear to be any indication of who, specifically, the Merchant is. As of publication, Amazon hasn't responded to requests for clarification.
Presumably, the games will sold back to Amazon customers later down the line.
The resale war
Trading used games has long helped keep margins afloat for video game mega-chains like GameStop, in a market where profits on new titles can be extremely slim. But trade-ins have been a point of contention for publishers lately, who feel they're losing out on sales.
Some game makers have taken indirect steps to diminish the value of trade-ins with schemes like adding a unique, one-time code in the box for downloading "extra" content or by simply shackling the title in DRM restrictions.
Occasionally, game publisher frustration has boiled into the open, as seen with Gears of War maker Epic Games' president Michael Capps in an interview with Gameindustry.biz.
I'd hate to say my players are my enemies - that doesn't make any sense! But we certainly have a rule at Epic that we don't buy any used games - sure as hell you're not going to be recognised as an Epic artist going in and buying used videogames - because this is how we make our money and how all our friends in the industry make money.
Amazon joining the fray may also add considerable pressure on stores that specialize in game trade-ins. Not only does Amazon hold considerable clout as a retailer, but its store credit can be used to purchase a far greater variety of merchandise than GameStop's selection of more video games, dubbed anime, and the occasional special edition Boba Fett action figure.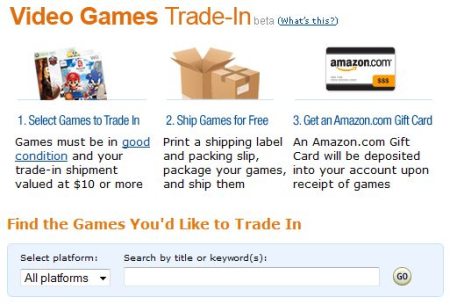 Yet other major US retailers like Best Buy have failed in their attempts to wrestle GameStop's iron grip on the trade-in market with game exchange programs of their own. Best Buy's trade in service was operated by Dealtree.com, a site that handles auction management and returns processing for retailers. It's probably safe to assume a similar kind of business is responsible for Amazon's trade-in program as well, given the site's references to a third-party merchant in the program's literature.
Readers can check out Amazon's announcement here or browse the Amazon Trade-in Store over yonder.
As incentive, for the first two weeks of the program, Amazon will throw in a 10 per cent discount of a future purchase of any game or accessory in Amazon's video game store. ®