Developers more 'satisfied' with PHP than other codes
Ease of use plus no unpleasant aftertaste
---
You down with PHP? (Yeah, and Ruby)
The surveying snoops at Evans Data say developers that use PHP are more satisfied with the scripting language overall than those who program with Ruby, Perl, Javascript, Flex, and VB script.
Evans Data said it polled over 500 developers and IT professionals world-wide, asking them to rank the features and options of scripting languages they have personally used. It asked respondents to judge the languages on 12 characteristics such as ease of use, exception handling, security, client-side scripting, and the coding community.
The overall scripting crown and scepter went to PHP, winning the top spot most categories. Ruby took second place overall with top marks in ease of use, which also was what most coders said is the most important feature to win their hearts. Python arrived in third place with the high score in the extensibility category.
From the survey's report:
Overall, most of these languages have their merits and their drawbacks. Ruby users are convinced it is the easiest to use and that development in Ruby proceeds much faster than in other languages. It is object oriented and supports code reusability, so developers should be able to write programs that can be maintained and extended. However, the Ruby community is very small and despite the hype of Ruby during the last two or three years, its market penetration has been feeble and it's not easy to find Ruby developers – which is potentially a big problem.
Evans Data calls Python users "enthusiastic," and says the language's best attributes support the creation of relatively large and complex applications. It adds that while the Python developer community is small, it's shown signs of growing over the last couple of years. Plus Google uses Python, so it has to be cool.
But both lost in the overall score to PHP, which Evans Data says has the second largest community of scripting-language users behind JavaScript. The market-research firm dubs PHP the de facto workhorse of the web for its strong set of tools and developers that are "plentiful and easy to find."
The least-satisfied coders overall according to the survey, are those using Microsoft's VBScript.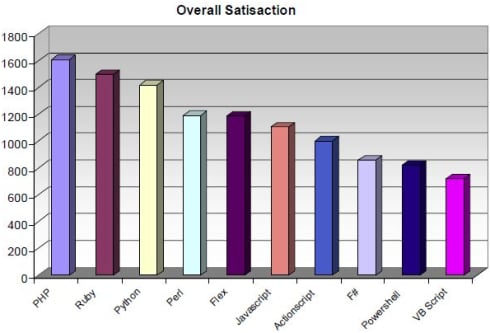 Each category was ranked on a scale of 1-5 (image courtesy Evans Data)
The three winning languages broken down into categories are:
Ease of Use: Ruby, PHP, Flex
Exception Handling: Ruby, Python, Powershell
Extensibility: Python, PHP, Perl
Maintainability/Readability: Ruby, PHP, Python
Cross-platform Portability: PHP, Ruby, Python
Community: Ruby, PHP, Javascript
Availability of Tools: PHP, Ruby, VB Script
Quality of Tools: PHP, Flex, Python
Performance: PHP, Perl, Python
Memory Management: Python, Perl, Flex
Client-side Scripting: Javascript, Ruby, Windows Powershell
Security: Microsoft F#, PHP, Ruby
A gratis full copy of the report is available here (PDF) assuming you don't mind entering some personal data first. ®
Similar topics
Broader topics