Top Gear's Cool Wall already features several BMWs. But the what's hot and what's not display could soon feature a new model entirely: the BMW PC.
Nope, you're not reading a 'Leccy Tech story here. Instead of PC standing for Petrol Carburettor, the BMW PC is exactly as it sounds: a futuristic Personal Computer created in partnership with design consultancy BMW Group Designworks USA and high-end PC maker Thermaltake.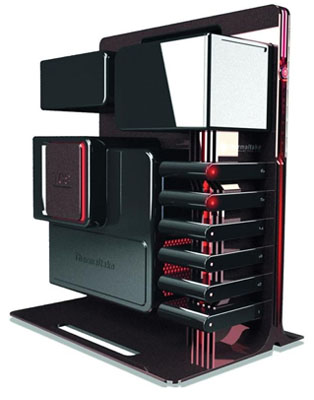 The concept BMW PC doesn't have a case
The concept PC, also known as Level 10, was recently shown off at CeBit in Germany. The PC's components aren't hidden away inside a metal shell, with designers instead opting to mount them on a vertical board.
Of course, it's no coincidence that the component arrangement mirrors the layout of a car's engine. But by keeping a healthy distance between the various components and by doing away with the need for a shell, it's reasonable to assume that the PC will be kept cooler than normal.
Precious little else is known about the PC yet, but online reports have claimed that the BMW PC will roll off production lines later this year. An on-the-road desktop price hasn't been given. ®
Similar topics