Discovery ISS gig go for Wednesday
No problem with shuttle's hydrogen flow control valves
NASA has given a green light to Discovery's STS-119 mission to the International Space Station following a review of a potentially troublesome hydrogen flow control valve. The shuttle will blast off from Kennedy Space Center at 9:20 pm EDT on Wednesday (01:20 GMT Thursday).
Discovery's launch was previously knocked back following damage to a hydrogen flow control valve during Endeavour's November 2008 STS-126 mission. NASA explains: "The three flow control valves, one for each space shuttle main engine, channel gaseous hydrogen from the engines through the main propulsion system and back to the external fuel tank. This flow regulation maintains the tank's structural integrity and delivers liquid hydrogen to the engines at the correct pressure."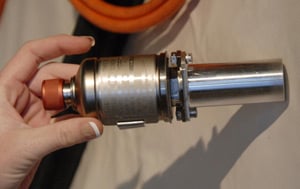 The problem was a cracked component (full details here (pdf)), but NASA says that Discovery's trio of valves have been removed (see pic), examined and "cleared of crack indications".
The STS-119 mission will carry the final sets of solar arrays to the ISS to enable it to accommodate a permanent crew of six. NASA elaborates: "The set of solar arrays that the STS-119 crew will be bringing up includes two solar array wings, each of which has two 115-foot-long arrays, for a total wing span of 240 feet, including the equipment that connects the two halves and allows them to twist as they track the sun.
"Altogether, the four sets of arrays can generate 84 to 120 kilowatts of electricity - enough to provide power for more than 40 average homes. Since the three existing arrays can handle the majority of the station's day-to-day operational and life support needs, the newest solar array will double the amount of power available for scientific research."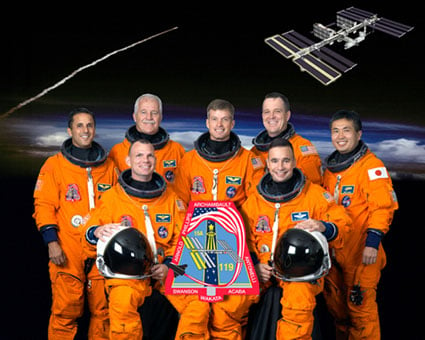 On board for the jaunt will be Commander Lee Archambault, Pilot Tony Antonelli (above, front row, left and right) and (back row, left to right) Mission Specialists Joseph Acaba, John Phillips, Steve Swanson and Richard Arnold. They're joined by Japan Aerospace Exploration Agency astronaut Koichi Wakata (back row far right), who'll remain on the ISS.
Expedition 18 Flight Engineer Sandra Magnus, who's been on the orbiting outpost since arriving on Endeavour back in November, will return to Earth with the STS-119 crew.
During the 14-day mission, four spacewalks are planned - principally to install the new solar kit (more details here in the mission overview (pdf) and mission fact sheet (pdf)).
Discovery is also carrying a replacement "Urine Processor Assembly-Distillation Assembly" for the bothersome $250m wastewater recycling system. NASA hopes that before the shuttle's departure, the crew will be able to "perform a minimum of one Water Processor Assembly urine processing cycle". ®