Pentax Optio P70
Nice face, shame about the snaps
Review Everything about the Pentax Optio P70 suggests fun. It's got an ultra-thin, sleek design, is available in several colours - our review sample came in a rather fetching marine blue - and is crammed with features designed to make digital photography a hassle-free experience, including face recognition, smile detection and enough scene modes for several cameras, let alone one. But is the Optio P70 fun to use and are its results fun to view?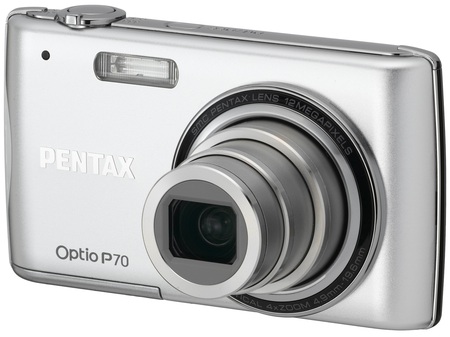 Pentax's Optio P70: gorgeous looking
The Optio P70 is a gorgeous looking camera and its clean, curvaceous aluminium/chrome coated body measures just 97 x 54 x 21.5mm and weighs 125g – and that's with battery and card. So the Optio P70 scores high when it comes to pocketability, and that's no surprise because the camera is aimed more at the casual snapper who wants style and simplicity - even though it does have one or two manual features.
A brief tour reveals a power button, shutter and zoom lever at the top, and a strap lug on the right. The back is dominated by a 2.7in LCD screen composed of around 270,000 dots. Next to it sit a Face Priority/Smile capture button, playback button, four-way controller - for drive mode, flash, focus mode and various scene modes - menu button and green button, which puts the camera back into its default settings and also doubles up as the delete button when the P70 is in playback mode.
At the bottom is a flap covering the lithium ion battery and SD/SDHC Card slots, plus a mini USB port. As we said, it's all clean and simple.
When it comes to features, you get a 12Mp (effective) 1/2.3-inch CCD; 4.9-19.6mm/f.2.6-5.8 4x optical zoom, equivalent to a 28-110mm lens in the 35mm format; ISO range 64-6400; shutter speeds from 1/1000-1/4s, with longer settings for some scene modes; two continuous shooting modes, with the highest operating at 3.6f/s; and three anti-shake systems. For still images, there's Pixel Track, a software-based anti-shake system, and High Sensitivity SR, which boosts the ISO to 6400.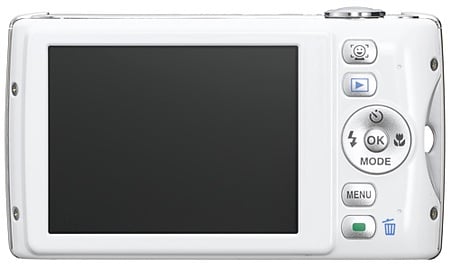 Packed with point-and-click features
The third anti-shake system, Movie SR, uses software to reduce blurring when shooting video. Talking of video, the Optio P70 can record video in 720p HD resolution (1280 x 720) at 15f/s, as well as 640 x 480 and 320 x 240 at 15f/s or 30f/s. You can store around an hour of HD-resolution video on a 4GB card. Despite offering HD recording, the Optio P70 has no HDMI port and only offers PAL and NTSC output options.