This article is more than 1 year old
Craigslist boasts 95% drop in 'erotic services' listings
Cracking down on classifieds of ill-repute
With Chicago's sheriff accusing Craigslist of being one of America's top sources of prostitution, the online classified ad-broker has opened its books to illustrate what it calls "spectacular" reductions in the volume of "erotic services" listings.
In a Monday blog post, Craiglist says implementing new verification policies in 2008 has helped the site make major progress in curbing its classifieds-of-easy-virtues.
Craigslist claims for five major US cities (Atlanta, Chicago, Los Angeles, New York, and Seattle), the number of solicitations published in the site's erotic services category has dropped between 90 and 95 per cent in the past 12 months. It adds the site's current selection of scarlet listings are now "much improved" in their compliance with Craigslist's terms of use agreement as well as local laws.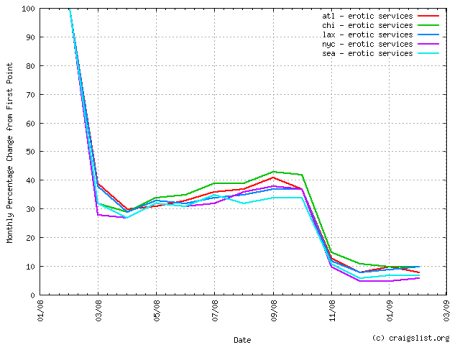 September must be a lonely month.
Release of the stats is clearly a response to a federal lawsuit filed by the Illinois Sheriff Department on Thursday, which claims the enormous amounts of prostitution solicitations on Craigslist is straining the department's ability to enforce the law. In the first 11 months of 2008, it incurred costs of more than $105,000 cracking down on Craigslist prostitution. Dart wants the court to award his department unspecified compensatory and punitive damages and to shut down the site's erotic services section for good.
The lawsuit alleges that despite Craiglist's recent efforts to hose down its red light district, sex peddlers still post more than 300 listings per day in Chicago's erotic services section. The Craiglist data unfortunately only deals in percentage changes, so its impossible to verify those claims.
But what it does appear to show is massive drops after Craigslist began requiring phone verification for erotic services listings in March, and credit card authorization in November. Both measures were supposed to add more accountability to user listings
From the post:
In this same timespan, craigslist staff have continued to work closely with law enforcement agencies across the country to vigorously pursue those engaged in the horrific crimes of human trafficking and exploitation of minors.
Craiglist claims that 100 per cent of revenue earned from erotic services listings have been earmarked for donation to "worthy charities." The site says it will be in a position to start distributing the funds "soon." ®