This article is more than 1 year old
Apple ogles location-based iPhone ads
Patent app knows where you are
Apple has filed for a patent on a location-based interface that can display ads and facilitate purchases over your iPhone or iPod touch while you're out shopping.
The patent, "Graphical User Interface with Location-Specific Interface Elements," is designed to generate impulse buying and to ensure that purchases are made at Apple's iTunes Store.
Although the 49-page patent application #20090064056 covers location-based services in general, the ones described in most detail in the filing would enable users of Apple's WiFi-equipped handhelds and laptops to identify and purchase tunes, movies, videos, photos, and audiobooks while they are being played or displayed in a bricks-and-mortar store.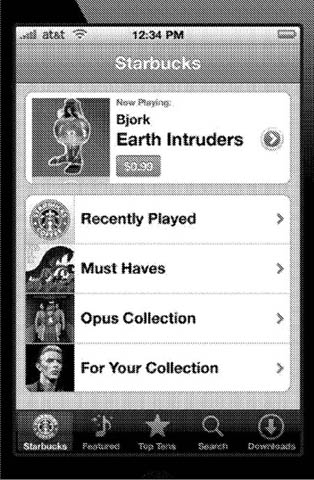 Starbucks could customize their ad to feature their own collections
The mobile devices' displays would change to match the content being listened to or viewed. An album cover or movie poster, for example, could be displayed. A Buy button could be double-tapped to purchase that item directly from the iTunes Music store.
One variant of the filing also envisions a device's location-detection capability triggering "establishment-specific display panels" - that's advertisements, in non-patentese.
The advantages to both Apple and the bricks-and-mortar store owner are many. Apple gets to induce purchases at the iTunes Store, and the store owner (presumably) gets a percentage kickback for facilitating that inducement on their premises, all without having to worry about real-world messiness such as inventory.
Retail-wise, it's a win-win. And for the shopper, it's a painless way to satisfy that iTunes jones - at least until the bill shows up at the end of the month.
The filing is also another step in Apple's growing interest in location awareness. There have been reports, for example, that the next version of Mac OS X, aka Snow Leopard, will be location-aware, based on the iPhone's CoreLocation Framework.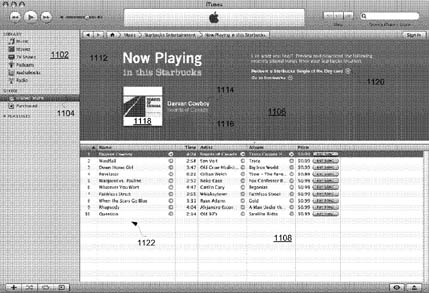 Your laptop could know that it's in Starbucks, as well as what tune it's listening to
In addition, Apple has added geotagging to the iPhoto app in its iLife '09 creativity suite, and filed a flurry of location-service patents this January.
While the Big-Brother aspects of location awareness can be a mite off-putting, the convenience that the technology can provide is inarguable. Imagine, for example, entering "Waring Tailgater" on your iPhone, and having it chirp as you pass an appliance store that offers that Professional Specialty Blender.
Or hearing a tune in a coffee shop, and rather than going crazy trying to remember its name, tapping your iPhone and being told the song's name, the artist who's performing it, what album it's from, when it was released, and who that kick-ass bass player is on that particular session.
There is, however, one absolute requirement for location-based technology: the ability to turn it off. Sometimes you'd prefer to be left alone, and not have anyone know where you are. ®