Apple 17in MacBook Pro
How much battery life? How big a price tag?
---
Review When Apple overhauled its laptop range towards the end of 2008, the 17in version of the MacBook Pro got the short end of the stick. While both the consumer-oriented 13in MacBook and the more expensive 15in MacBook Pro were revamped with Apple's new 'unibody' aluminium design, the 17in model was left with the same 'titanium' design that it's had for the last few years.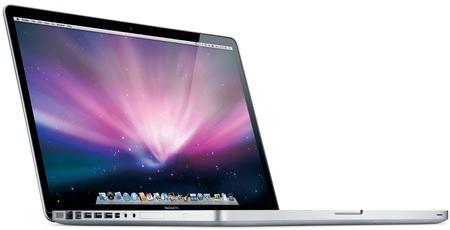 Apple's 17in MacBook Pro: a unibody, at last
There were some minor improvements: the screen resolution was bumped up from 1680 x 1050 to 1920 x 1200, while the Ram was increased from 2GB to 4GB and the hard disk from 250GB to 320GB. Those relatively minor changes resulted in a price increase of about £100 over the previous model, yet the machine's 2.5GHz Core 2 Duo processor was left unchanged, as was its aging GeForce 8600M GT graphics processor.
In contrast, the 15in MacBook Pro models boasted a new graphics system that includes both an integrated GeForce 9400M and a more powerful – and battery-hungry – GeForce 9600M GT with its own 512MB of video memory.
It was fairly obvious that the 17in model was due for the full unibody upgrade treatment in the near future, but Apple simply wasn't prepared to commit itself to a date.
Now, three months later, the 17in MacBook Pro has finally received the proper overhaul that we've all been expecting. The unibody design is present and correct, and its minimalist style makes the unit look about as neat and compact as is possible for a 17in notebook to be.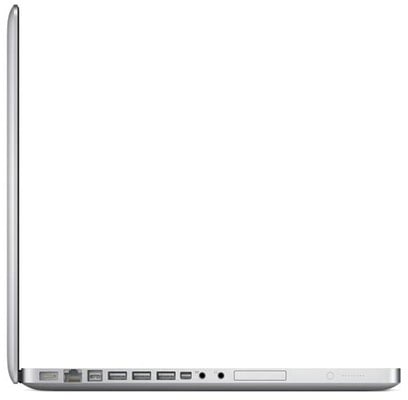 DisplayPort in, Firewire 400 out
It also allows Apple to shave a tiny amount off both the size and weight so that it can claim that the 24.5mm (0.98in) thickness and 3kg (6.6lbs) weight make this "the world's thinnest and lightest 17in notebook". You still need two hands to lift it – or at least we did – but it's certainly a more compact affair than our 17in Dell XPS laptop.