This article is more than 1 year old
Acer K10 DLP pico projector
Smaller than its own power brick
Added to that the K10 doesn't have a zoom so you need to move the projector to change the size of the picture and then tweak the focus. Acer has included a 0.25in camera tripod thread on the base of the K10 so you can raise this tiny projector up to adjust the height of the picture. We were able to use the feather-like K10 on an incredibly flimsy camcorder tripod and the picture was entirely stable.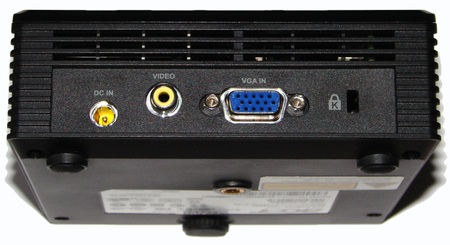 Not much in the way of portage
Setting up the K10 is a rapid process as there are so few options to investigate in the menu. You make adjustments using the menu button and four-way navpad on the top of the projector - there's no remote control. Presumably, this cuts costs by a modest amount but the likelihood is that Acer simply didn't think a remote control was necessary.
Options include the display mode – standard, bright, video, black board and two user-definable modes – brightness, contrast and the ability to flip the picture around. There is no option for switching between Normal and Eco mode, which sounds sensible as there's no need with an LED projector to make the usual trade-off between brightness, bulb life and noise. The brightness rating is already very low, so is the 28dBA noise rating, and the life of the light source is huge.
These figures don't tell the full story, though. The brightness and contrast on our review sample were both set at 55 per cent which seemed bewilderingly low. But the settings were correct. The displayed image rapidly becomes unpleasantly bright and washed out as you crank up the brightness and contrast any further. Yes, it's true - this 100 lumens projector is unusable with the brightness set anywhere near maximum.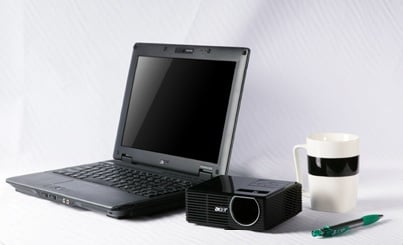 Not much desk space required
We were also surprised that the projector was unpleasantly noisy. It's not so much the volume of the cooling fan - 28dBA is very quiet - but the tone of the sound was annoying. Make no mistake about it, we could happily live with the Acer K10, but we expected the projector to be utterly silent and our expectations were misplaced.