This article is more than 1 year old
Acer K10 DLP pico projector
Smaller than its own power brick
We weren't entirely happy with the picture quality and that was despite the allowances we made for the limitations of the LED light source. Although the picture was reasonably sharp and clear, it could have been better. We suspect this is due to the bizarre native resolution of 858 x 600, which isn't an option in Windows Vista. The closest we could get was 800 x 600 so we never saw this projector at its theoretical best. Instead, we used the maximum forced resolution of 1280 x 1024 which worked well but lacked pinsharp definition.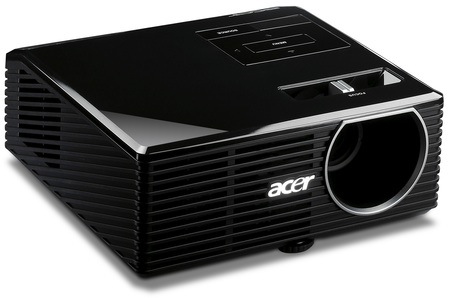 Not noisy, but annoying nonetheless
We also didn't think much of the colour reproduction, which is pretty much par for the course with cheap DLP projectors. However, as the K10 is destined for a life of PowerPoint rather than home cinema it's perhaps not a major problem.
Finally, there's the carry case. This is a tiny padded pouch that looks smart but which has no storage for any cables. In an ideal world, you'll use a laptop power supply for the K10 but there's no getting away from the need for a cable to connect the projector to your Acer laptop. Acer supplies a 1m VGA cable as well as a short s-video cord, but they'll end up loose inside your bag where they will inevitably wrap themselves around all of your possessions.
When the K10 was announced we had hoped that it would sell for £299 but the actual price is £450. You buy get a much better projector for the same price in the shape of the Hitachi CPRX70, but you'll be missing out on the pint-sized form-factor of the K10 if you do.
Verdict
If you're sick and tired of lugging a bulky projector around and are prepared to sacrifice image quality for convenience then the K10 has a great deal to offer. As an added bonus, it's a safe bet you will never need to buy another projector lamp again. ®
More Projector Reviews...
| | | | |
| --- | --- | --- | --- |
| Epson EH-DM2 | Infocus X10 | BenQ W500 | Samsung SP-A400B |

Acer K10 DLP pico projector
It's expensive and the picture's not the best we've seen, but the K10's small size makes it a contender.