Apple lands democracy on fanboi party-goers
iTunes' egalitarian DJ
---
Apple released an update to its iTunes music-management application on Thursday. The updated version, iTunes 8.1, adds support for the third-generation iPod shuffle released on Wednesday, improves performance, and patches two security vulnerabilities.
Plus, it lets fanboi party-goers request and vote on music.
The iTunes DJ feature replaces the old Party Shuffle and adds one slick new twist: You can now use Apple's Remote app on your iPhone or iPod touch - available for free on the iTunes App Store (iTunes link) - to request and vote for songs when an iTunes DJ mix is playing. If you're throwing a party and your crowd includes a horde of iPhone and iPod touch users, you can allow them all to view your iTunes DJ mix on their handhelds to control the tunes - and, yes, you can password-protect the mix to prevent your friends with bad taste from mucking up the evening.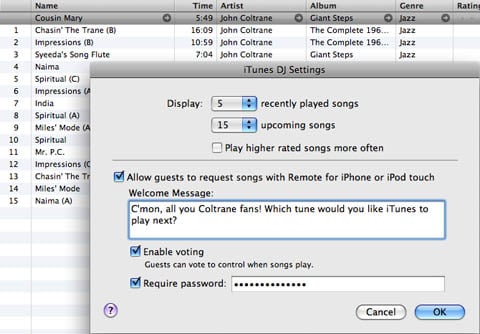 Your guests can vote on songs in your iTunes DJ mix - if they have the password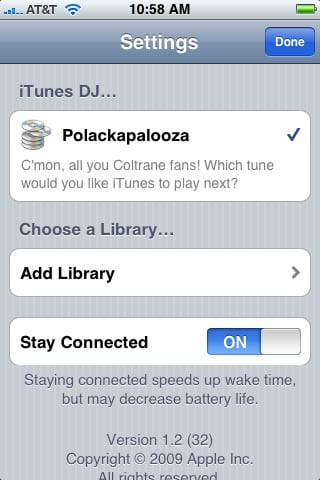 Messages from iTunes 8.1 can entice partygoers to vote for songs
Also added is the ability to AutoFill any iPod - a feature previously available only to the iPod shuffle. AutoFill can pack your 'Pod with songs chosen from either your entire library or from any playlist you choose. You can set AutoFill to choose songs either randomly from the location you specify or to prefer songs you've rated higher than others.
The Parental controls (iTunes > Preferences > Parental) have been updated to allow you to disable access either to the entire iTunes Store or limit access on the Store to just the educational offerings at iTunes U. Unfortunately, this new "feature" disables access for all users of iTunes - and not merely for users you select.
Apple also touts the ability to now allow CDs to be ripped at the same sound quality as iTunes Plus (256kbps, 44.1kHz, VBR, optimized for MMX/SSE2). This, of course, is not a new feature - you've always been able to rip CDs at a variety of encoding levels, up to and including AIFF. The tweak here is merely the addition of a setting in iTunes > Preferences > General > Import Settings that specifically names an encoder as iTunes Plus when you select AAC Encoder in the Import Using drop-down menu - useful for the codec-challenged, we assume.
According to Apple, the new version is "faster and more responsive" when working with large music collections, syncing both music and photos, and browsing the iTunes Store. In our testing, the browsing improvements were apparent, with minimal slowdowns occurring even after browsing many pages - a real annoyance in iTunes 8.0.
Two security patches are also included, one for Mac OS 10.4.10 or later plus Windows XP and Vista, and a second for Windows XP and Vista only.
The all-OS patch fixes a vuln in which a malicious podcast could pop up a dialog asking for your iTunes Store ID and password. Odds are, you're not dumb enough to fall for such a transparent phishing expedition, but more-naive users might. iTunes will now detect such a ploy and warn you by "clarifying the origin of the authentication request in the dialog."
The Windows-only patch fixes a Digital Audio Access Protocol (DAAP) vuln that could result in a denial of service.
Mac users can download iTunes 8.1 through Apple Menu > Software update. Both Mac and Windows users can download it here. ®