This article is more than 1 year old
Apple 24in iMac (March 2009)
Not enough of an upgrade?
Review Having given its entire laptop range a thorough overhaul in recent months, Apple has now turned its attention to its desktop machines, starting with the iMac and with the Mac Mini and high-end Mac Pro to follow.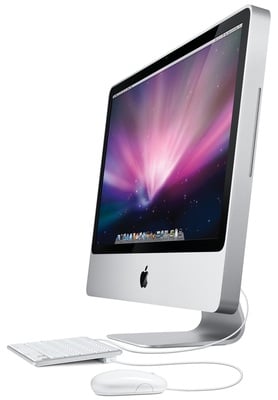 Apple's 24in iMac: what's new is largely under the bonnet
However, the new iMac is a more modest affair than many of us might have hoped for. To be fair, it is a perfectly respectable update, but the iMac hasn't received anything like the complete redesign that the MacBook range enjoyed back in October.
The basic design remains unchanged – which, in itself, is something of a disappointment for those of us that have watched the ever-changing shapes and colours of the iMac over the years. It retains the slimline, all-in-one aluminium design that it has been using since 2007, with only a handful of minor cosmetic alterations.
There's an extra USB 2.0 port tucked around the back of the unit, giving a total of four ports altogether, and the stand seems to be slightly narrower. In fact, the biggest external change is the arrival of yet another new Apple keyboard.
This, it has to be said, is little more than a toy. It does look very neat, being constructed out of a single sheet of aluminium as seems to be de rigueur for Apple products these days. But it's far too small for a proper desktop keyboard. It's actually a wired version of Apple's compact wireless keyboard, which is only really suitable for balancing on your lap while you do a spot of web browsing or using the machine to play music and videos. It's not much use if you want to do anything as mundane as typing in Word or Apple's alternative, Pages.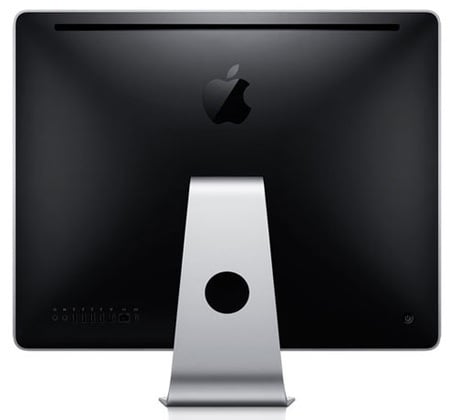 Still no height adjustment
There's no numeric keypad either, so forgot about doing boring old spreadsheets in Excel or Numbers. Apple does sell a larger keyboard for £38, but if, like us, you actually use your iMac at work then you're better off with a decent Mac-compatible keyboard from Logitech or - dare we say it - Microsoft.