Kodak ESP 7 all-in-one inkjet printer
Photo printing doesn't get much cheaper
---
Kodak provides drivers for versions of Windows back to XP SP2 and to Mac OS X 4.8, but there's no specified support for other operating systems. The ESP 7 supports wireless networking and can be set to spot and adopt a network from the front panel. Application software is provided in the form of Kodak's AiO Home Center printing and scanning app.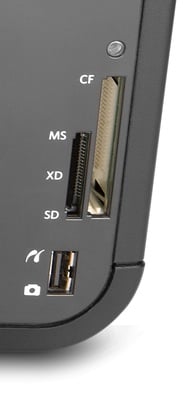 The standard mix of memory card and PictBridge sockets
Kodak quotes print speeds of 32ppm for black and 30ppm for colour, but for all practical purposes you can forget these. Our five-page black text document, printed in normal mode, took 1m 12s, equivalent to 4.2ppm, and the longer, 20-page test took 3m 58s, still only 5.0ppm. A five-page black text and colour graphics document took 2:28, a pretty slow 2.0ppm.
This machine can print duplex, and running the 20-page document through as a ten-page duplex test produced 3.9 sides per minute, or 1.9ppm. None of these speeds is very exciting, but they're not unduly slow for an all-in-one in this price bracket.
Best time for a 15 x 10cm photo print was 48 seconds, from an SD card, which is pretty respectable and the slowest was just over a minute, from a PC, which is still acceptable. A full page, colour photocopy took 41 seconds and this is, again, reasonable.
Print quality divides down into plain paper and photo paper prints, with black text on plain paper looking generally clean. There's a hint of minor feathering around some emboldened headline characters, but generally it's decent.
Colour graphics are usually OK, too, though large areas of fill can look mottled, which normally implies insufficient ink to saturate the paper fibres. Black text over colour isn't brilliantly registered and an unusual problem reproducing a section of WordArt in our test page meant that coloured fills broke the bounds of their character outlines. We suspect this is a driver problem.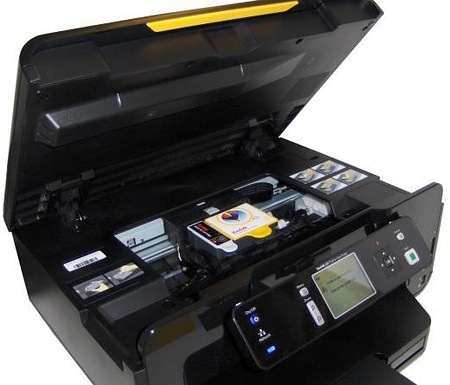 Maintenance is easy, with just two cartridges to fit
Photo output, on the other hand, is pretty good, with high levels of detail in the foreground of our test image and viewable detail in the shadows, which isn't always the case. Colours are natural and variegated areas of sky are handled smoothly.