It being Texas and all, you would expect for the flash-based solid state disks to be bigger and faster than you might find in other parcels of the globe. And so it is that Texas Memory Systems has this week launched a whopper of an SSD.
The RamSan-20 SSD weighs in at 450 GB, and it's based on single-level cell (SLC) NAND type flash memory. It plugs into a PCI-Express x4 slot on the server and has a 333 MHz PowerPC chip as is main controller. With its banks of flash memory modules, the RamSan-20 can support 120,000 sustained I/O operations per second (IOPS) on random reads and 50,000 IOPS on random writes. With a 70-30 per cent mix of reads and writes (which is typical for a lot of workloads), you get about 80,000 IOPS. The whole unit burns about 15 watts, which is about what a stick and a half of DDR2 main memory inside a server does. The unit has error correction electronics as well as four RAID 5 chipsets (made by Xilinx) to make sure the data stored on the SSDs stays clean.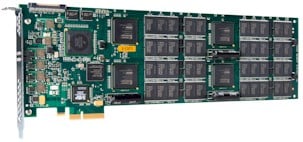 Packing in the flash, Texas style
The RamSan-20 PCI-based SSD will be available early in the second quarter, according to Texas Memory Systems. The unit will sell for $18,000. (Good business, if you can get it).
Texas Memory Systems also sells lines of storage arrays based on flash and main memory. These plug into servers just like disk arrays, but they run a hell of a lot faster and cost a hell of a lot more money. ®