Apple preps Jobsian magic wand
Putting the TV in Apple TV
An Apple patent filing on Thursday reveals the company's plans for a cursor-controlling remote with more than a few tricks up its sleeve, and which may hint at the big-screen Apple television that has been the subject of many a rumor.
Patent application #20090066648, entitled "GUI Applications for Use with 3D Remote Controller," takes the familiar Apple Remote and upgrades it to a motion-sensing, infrared-communicating 3D mouse and "flashlight."
As described in the filing, the wand will include a "motion detection component" such as an accelerometer or gyroscope, and will be able to communicate with a "media system" both through movement sensed by that detector and through absolute positioning determined by one or more infrared (IR) sensors, as does the überpopular Nintendo Wii.
Of Apple's current products, the most obvious beneficiary would be the company's "hobby" product, the Apple TV. To make it work with an existing big-screen TV, the wand would require an add-on IR receiver, as does the Wii.
Or Apple could release its own big-screen TV - aka "media system" - with IR sensors built-in.
The 68-page filing goes into excruciating detail as to how the wand could interface with the aforementioned media system. Unlike the Apple Remote, which merely allows you to beam commands toward your Apple TV much as does any standard remote (although with a vastly simplified array of buttons), the wand would provide the ability to manipulate objects on-screen.
By being able to broadcast to the media system its distance and orientation in addition to simply sending it commands, the wand could function as a 3D cursor controller.
In its most-basic use, the wand could scroll through lists by simply flicking them as does your finger on an iPhone, then click on a selection with the press of a button.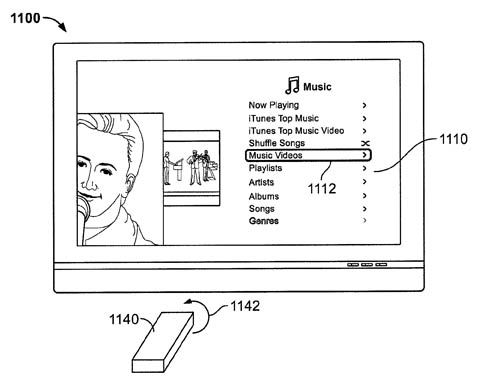 In its most-basic use, the proposed wand could control a cursor
It could also call up an icon dock à la Mac OS X, then display a cursor which could launch an application by clicking on a selected icon.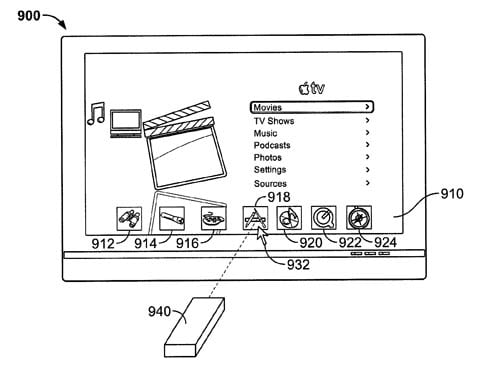 You could use the wand to call up a dock full of application icons
One such application could, for example, display thumbnails of all the images, albums, or movies in your iPhoto and iTunes collection.
The filing describes how the wand could be used to scroll through the thumbnails either horizontally or vertically, then choose one for viewing, listening, editing, or cropping.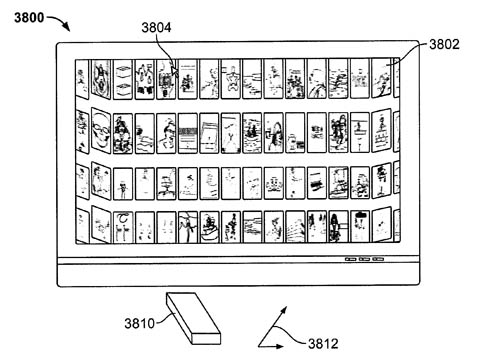 The wand could flick through thumbnails much as your finger flicks an iPhone