Apple Mac Mini (Early 2009)
Is this modest upgrade enough to save the Mini?
---
Review Someone at Apple must have a soft spot for the Mac Mini. Despite its superb design, the Mini has always been a bit of an under-achiever, and rumours of its poor sales and imminent demise have been going around for a couple of years now. Yet, as the song says, "good times and bum times, I've seen them all, and I'm still here".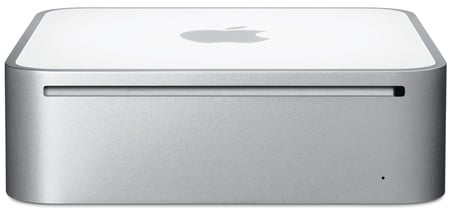 Apple's Mac Mini: never out of the iMac's shadow?
The good times followed its original launch in 2005. The Mini's ultra-compact design makes most so-called 'small form-factor' PCs look like the Incredible Hulk, and is ideal for home users who don't have much room to spare, or business users that just want a cheap machine for wordprocessing and spreadsheet work.
And with that original model starting at just £339 – albeit minus monitor, mouse and keyboard - it was far and away the cheapest Mac that Apple had ever come up with. It seemed ideally suited to its role as a tempting piece of bait for PC 'switchers' who were thinking about buying a Mac for the first time.
It also makes a darn fine media centre system. In fact, we currently have the last-generation Mini hooked up to a Samsung HD TV at home where it does sterling service as an all-in-one music system, DVD player and video recorder - with a little help from Elgato's EyeTV tuner.
Yet the Mac Mini had an evil arch-nemesis – and, lo, its name was 'iMac'. Apple doesn't do 'cheap' – never has, never will. It would far rather get you to buy an expensive iMac than ten low-cost Minis, so to prevent the Mac Mini from cannibalising iMac sales it has quite deliberately neglected the poor little thing over the course of its four-year lifespan.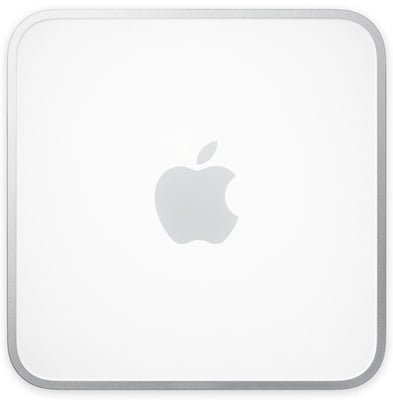 Makes for a rather nice media centre
The bum times arrived the following year, when Apple abandoned IBM's PowerPC processors and made its own 'switch' to Intel's processors. To prevent the Mini from treading on the iMac's toes, Apple saddled the little machine with the underpowered Core Solo CPU – and, at the same time, began to nudge the price upwards to the point where the all-in-one iMac actually seemed like better value for money.