Review Compact travel routers are nothing new, but they're generally limited to linking Wi-Fi devices to a wired network. Here at Reg Hardware we use an old but still handy ciggie packet-sized Netgear WGR101 unit to connect our laptops and iPhones to hotel Ethernet feeds.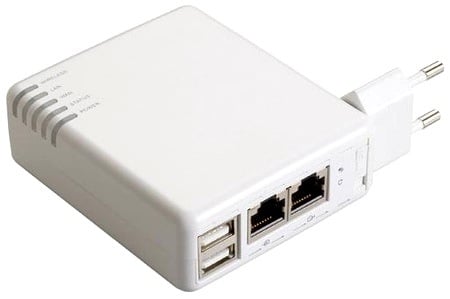 Solwise's 3.5G plus WLAN Mobile Server Router: small box, big name
Solwise's ungainly monikered "3.5G plus WLAN Mobile Server Router" does that too - and rather a lot more besides. In fact, so feature-packed is this gadget that, for once, the appellation 'Swiss Army Knife of...' really does seem appropriate. Indeed, we can't help wonder if it's not trying to do too much.
The MSR is about the size of a MacBook Pro power pack. It's 91 x 78 x 30mm in size with a three-pin plug attached to the side so it'll clip straight into a mains socket. It really resembles Apple's AirPort Express mini router in size and looks. There's a row of status LEDs toward the top. On what, when it's plugged in, is the bottom of the device, you'll find two Ethernet and two USB ports.
Our first niggle should be obvious to all at this point. What twit decided that the MSR's business end should face downwards, where it's least accessible, deserves a kick up the proverbial. Make sure you connect your cables before you plug the MSR into the mains, is our advice.
Like a travel router, one of the MSR's Ethernet ports takes the feed from a broadband modem or hotel network cable, while the other provides a way to hook up a wired device. Both ports are 10/100Mb/s rather than Gigabit, but this is a primarily mobile product, not something you'd install at home.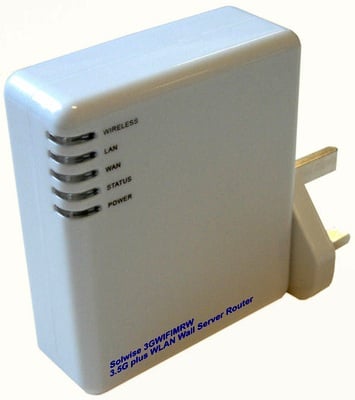 Compact
Then again, maybe you would. In addition to routing the WAN link through the second Ethernet port, the MSR will also tie it in to a number of wireless devices through its integrated Wi-Fi access point. It's only 802.11b/g rather than 802.11n, but its security extends to WPA - TKIP only, not AES - and will interface with a Radius authentication server if you have corporate ambitions.