This article is more than 1 year old
Discovery en route to ISS
NASA hails 'spectacular' launch
Space shuttle Discovery blasted off last night from Kennedy Space Centre at 19:43 EDT (23:43 GMT) on its STS-119 mission to the International Space Station.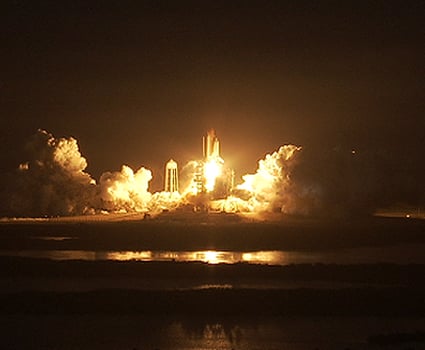 The launch was twice delayed due to technical issues - the first a suspect hydrogen flow control valve and then a leak in a gaseous hydrogen vent line.
NASA Associate Administrator for Space Operations Bill Gerstenmaier praised the teams who resolved the problems, enthusing: "It was a true team effort at NASA. There was a lot of critical work that needed to be done and they just did a phenomenal job."
NASA Launch Director Mike Leinbach said: "This was the most visually beautiful launch I've ever seen - it was just spectacular."
Discovery's will deliver the final solar panel arrays to the ISS, providing a total of 84 to 120 kW of electricity - an output which will "double the amount of power available for scientific research" ahead of the slated 2009 expansion of the crew to a permanent manifest of six.
The 13-day visit to the orbiting outpost will feature three space walks - reduced from the original 14-day schedule and four EVAs due to the launch delay. The Discovery crew comprises Commander Lee Archambault, Pilot Tony Antonelli, and Mission Specialists Joseph Acaba, John Phillips, Steve Swanson and Richard Arnold. Also on board is Japan Aerospace Exploration Agency astronaut Koichi Wakata, who'll remain on the ISS.
Expedition 18 Flight Engineer Sandra Magnus, who's been in residence on the ISS on since arriving on Endeavour's November 2008 STS-126 mission, will return to Earth on Discovery.
NASA has full details of the mission here (pdf).