Thumbs at the ready, because the Sega Mega Drive's set to make a comeback within weeks.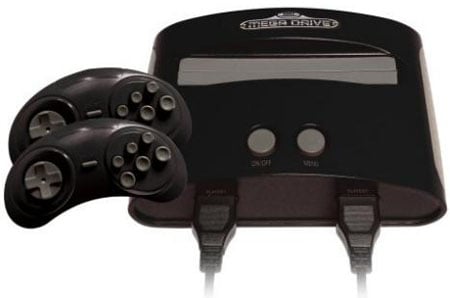 Blaze's Sega Mega Drive: retro action
Although slightly slimmer than the original model, the redesigned retro console has been developed by Blaze International and will be released by online retailer Play.com – to name but one – towards the end of next month.
The region-free Blaze Sega Mega Drive will come with two six-button controllers and a cartridge slot which, it's believed, will allow you to play any old Mega Drive games you've still got kicking around.
But if the Mega Drive craze passed you by then fear not, because the Blaze model will also come with "15 Sega-licensed games built-in". These include Sonic and Knuckles, Alex Kidd and Golden Axe.
Blaze has already developed the Sega Mega Drive handheld – a portable version of the console which comes pre-loaded with 20 classic Sega games.
The Blaze Sega Mega Drive will be available from 24 April, priced at £38 ($53/€41). ®