ISS spared space junk avoidance manoeuvre
All well pending Discovery's arrival
---
Crew aboard the International Space Station were yesterday told they would not have to perform a "debris avoidance maneuver"* after NASA deemed a 10-centimetre piece of the destroyed Russian Cosmos 1275 satellite posed no threat to the orbiting outpost.
Mike Fincke, Yury Lonchakov and Sandy Magnus last week took refuge for 11 minutes in the station's "lifeboat" Soyuz capsule when a "discarded mechanism used in boosting a satellite into higher orbit" whizzed past at "nearly 5.5 miles per second (20,000mph)".
The latest close-ish encounter with space junk is the result of the collision back in February between the Cosmos and an Iridium telecoms satellite. According to Gene Stansbery, NASA's orbital debris programme manager, pieces of wreckage from the pile-up have "progressively lost altitude due to the drag of Earth's atmosphere, so that they now come within the space station's altitude".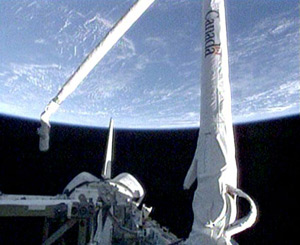 On Discovery, meanwhile, the crew's first full day in space "focused on an up close inspection of its wing leading edge panels using the robotic arm and Orbiter Boom Sensor System extension" (see pic). The STS-119 mission team is preparing to dock with the ISS later today with its cargo of the final solar panel arrays for the station.
NASA's STS-119 overview is here, there's more detailed info on the mission here (pdf), while ISS updates are available here. ®
Bootnote
*This involves using the docked Soyuz's engines to lower the ISS's altitude. According to New Scientist, this has occured eight times in the past, the last time in August 2008 "when the station lowered its altitude to avoid a piece of debris that was set to pass some 1.6 km away from it".