This article is more than 1 year old
Samsung PB22-J 256GB SSD
Our new favourite solid-state drive
Review The catchily named Samsung PB22-J MMDOE56G5MXP-0VB weighs in at 256GB and is the biggest SSD we've seen to date. Biggest, that is, in terms of capacity. Physically, it follows the usual 2.5in hard drive form-factor and measures 100 x 70 x 9.5mm. Cosmetically, it's an attractive drive that has a brushed metal finish but, let's face it, once the drive is installed, you couldn't care less what it looks like.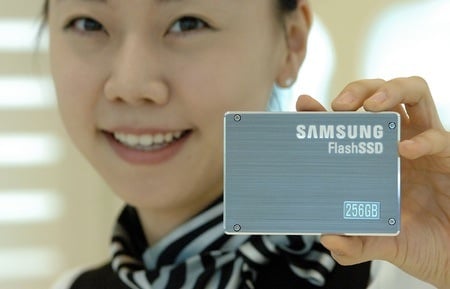 Samsung's 256GB SSD and friend: we like it too
Samsung tells us that it was the first company to sell a 32GB SSD, in March 2006, and was also the first to reach 64GB, which it did in 2007. Here we are with a 256GB drive in 2009. For the record, G.Skill lists a 256GB Titan drive in its range, and OCZ has a 250GB version of its Apex SSD. However, the Samsung is the first 256GB SSD that we have received.
Before we get started with the tests, we have to sound a cautionary note about availability and pricing. Samsung doesn't sell its SSDs direct to the consumer as they all, for the moment, go to its laptop customers.
A quick bit of research suggests that Alienware, Flybook and Lenovo are the companies in question. Take a look at the Alienware Area-51 m15x laptop, which starts at £899 with a 160GB 7200rpm SATA hard drive with sudden-drop protection. Upgrading to a 250GB drive with the same spec costs an extra £40, while a 320GB drive is a £62 upgrade - £22 more than the 250GB.
Switching from the 160GB SATA drive to a 128GB SSD costs £246, while a 256GB SSD costs £411. That gives us an approximate price of £430-440 for the Samsung 256GB SSD, but these prices are extremely fluid and seem to be changing rapidly.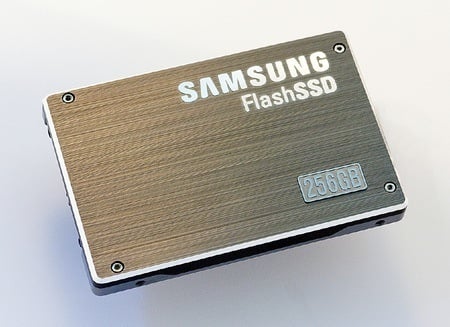 Not cheap, it seems
Taking the Lenovo option is far more expensive than the Alienware route, so if you fancy upgrading the 120GB 5400rpm HDD in a Lenovo ThinkPad X301 to a 128GB SSD, it will cost you £382. Phew.
We are making the assumption that the SSDs in question are Samsung products as that is the best information that we have at present. To put those prices in context, an 80GB Intel X25-M costs £350 and the 160GB version is priced at £690.