Samsung PB22-J 256GB SSD
Our new favourite solid-state drive
Cracking open the casing of MMDOE56G5MXP-0VB reveals that Samsung has chosen to use a full complement of its own chips. There are 16 K9MDGZ8U5M-SCK0 NAND multi-layer cell (MLC) Flash chips with ten chips on the bottom side of the board and six chips on the top along with a 1Gb DDR cache K4X1G323PD-8GC6 chip.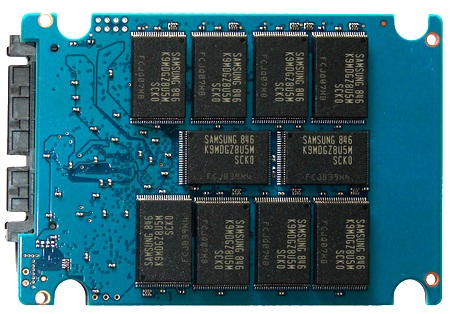 Inside, ten Samsung MLC Flash chips on top...
That's exactly what we'd expect to see as Samsung memory is so popular with OEMs. But the SSD controller is also made by Samsung. This is a bold move. Intel uses a Promise SSD controller and OCZ employs the popular JMicron chip, but Samsung has gone for its own S3C29RBB01-YK40 part. Off the top of our head, this is the first time we've seen a Samsung storage controller in action unless you count the chips that feature in Samsung's hard drives.
We connected the 256GB SSD to a Core i7-based test PC and compared the performance of the Samsung to an Intel X25-M and a 1TB Western Digital Caviar Black hard drive. We've mixed in the figures from our review of the 120GB OCZ Apex - all taken using the same test rig - however we didn't have the drives simultaneously and were therefore unable to perform a direct comparison.
When we reviewed the OCZ Apex we found that file transfer times fluctuated quite significantly so we have used the median figure from a number of test runs to ensure that our figures are representative. We have also used median figures for the WD Caviar HDD, and the Intel and Samsung SSDs, although the variance across the test results with these three drives was relatively small.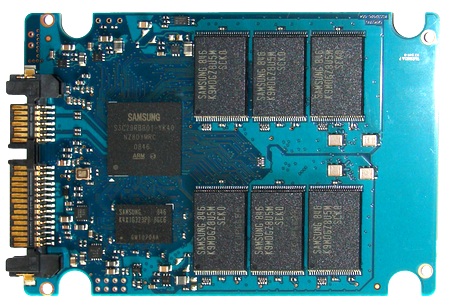 ...and six more underneath
The synthetic HD Tach 3 benchmark produces impressive results for the Samsung, yielding an average read speed of 203.7MB/s which is reasonably close to the Intel X25-M's 219.5MB/s and a comfortable distance ahead of the OCZ Apex's 166.5MB/s.
In write speeds, the Intel is quite disappointing (77.6MB/s) and is easily beaten by the OCZ (136.0MB/s). But the Samsung sets a new benchmark: 176.2MB/s. In burst speeds, all three SSDs achieve epic speeds, with the Samsung sandwiched in the middle.