Samsung PB22-J 256GB SSD
Our new favourite solid-state drive
PCMark05 HDD Results

Longer bars are better
We decided to use our own, everyday use Windows XP PC as a guinea pig to answer that very question. The main hard drive is a 250GB Samsung SP2504C with 75GB taken up by Windows and applications, while music, videos, work and other files are stored on a rather larger secondary drive. The motherboard is an Intel X48 and the processor is a 3.2GHz Core 2 Extreme QX9770 with 2GB of DDR 3 Ram, but start-up is a painful process that takes five or six minutes while the PC chugs into life.
The exact times for three start-ups are:
4 minutes 48 seconds
5 minutes 43 seconds
6 minutes 35 seconds
Part of the variation comes down to Sophos Antivirus, which performs an update at start-up. If an update isn't needed, it cuts at least a minute off the start-up time. But no matter what, there's a lot of disk thrashing as the software loads. That's Windows, ZoneAlarm firewall, Windows Defender, Sophos, X-Fi audio drivers and ATI Catalyst graphics drivers, plus a few other things, but honestly, it's a fairly clean system that's just getting old. We imaged the 250GB hard drive to the 256GB SSD and start-up times plunged:
1 minute 14 seconds
1 minute 21 seconds
1 minute 28 seconds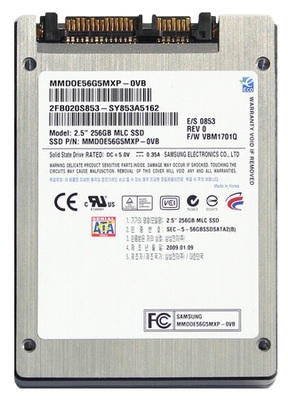 So that's it - we're sold on the Samsung SSD and don't want to give it back. If the manufacturer insists we may even make its an offer and buy the darn thing, and we can't say fairer than that.
Verdict
Samsung, please stop messing around and sell this gorgeous 256GB SSD as a component that's available to the buying public. ®
More SSD Reviews...
| | |
| --- | --- |
| OCZ Apex | Intel X-25M |

Samsung PB22-J 256GB SSD
An SSD with a capacity large enough for your desktop PC, Samsung's drive hits 256GB yet the price won't make your eyes water. Not too much...