Advertising watchdog okays 'gaming equals early grave' ad
Discouraging sedentary lifestyle, not gaming
The Advertising Standards Authority has stood behind an advert that some consumers complained connected videogames with an early death.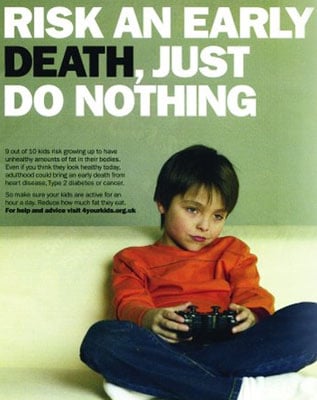 Advert A-OK, rules ASA
The UK's advertising watchdog ruled that "the ad did not claim that playing computer or console games alone would lead to illness or premature death".
It's believed the ASA received a small number of complaints about the ad, described by the head of games developer trade organisation Tiga, Richard Wilson, as "absurd and insulting in equal measure".
The ASA claimed that "most readers would understand that the ad was discouraging a sedentary lifestyle", with games consoles used purely as an illustration of how health problems may occur if you sit on your bum all day playing Grand Theft Auto IV without doing any exercise.
It's worth noting that one child was, according to the ASA, scared "she would die if she played video games". But the Authority implied that, for the majority, the advert is unlikely to cause undue fear or distress. ®