An international team of astronomy brainboxes say they have gained valuable initial insights into the behaviour of faraway, molto weirdo space objects known as "blazars".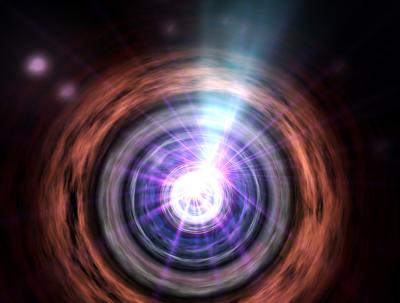 What a blazar would look like if it wasn't a blazar*.
A blazar, according to the boffins, is like a quasar but, erm, blazier. The theory goes that you have a galaxy with a super-enormous black hole at the centre, with stuff - stars, planets, nebulae, entire interstellar empires etc - falling into it.
In a poorly-understood process, this results in unbelievably vast and powerful fountains of energy blasting out of the top and bottom of the galaxy's centre. These particle blasts are thought to be so outrageously intense that they are visible billions of lightyears away, accounting for the mysterious bright radiation sources known to boffins as "quasars".
A "blazar" is where we on Earth find ourselves looking right down a quasar's energy jet. One such object is the catchily-named PKS 2155-304, located a cool 1.5 billion lightyears away in the southern constellation of Piscis Austrinus.
It seems that a large international alliance of boffins have been collectively peering at the quirky blazar, using a telescope array in Namibia and a NASA satellite scope in orbit.
According to NASA, PKS 2155-304 is hot stuff indeed:
When its jet undergoes a major outburst, as it did in 2006**, the galaxy can become the brightest source in the sky at the highest gamma-ray energies scientists can detect - up to 50 trillion times the energy of visible light.
The blazar is apparently not just hot, but weird. Attempting to describe the strangeness in the skies by referencing things a layman can easily imagine, French astrophysicist Berrie Giebels said:
"It's like watching a blowtorch where the highest temperatures and the lowest temperatures change in step, but the middle temperatures do not."
We used to have a blowtorch that did that all the time; it was better than a juggling monkey.
Quite apart from fascinating blowtorch antics, however, the brainboxes believe they may be on the track of some pukka knowledge here.
"The jets in blazars interact in fairly complicated ways to produce the radiation that we observe," says California-based labcoat Jim Chiang, who worked on the satellite imagery. "These observations may contain the first clues to help us untangle what's really going on deep in the heart of a blazar." ®
Bootnotes
*We are plainly not looking right down the jet here.
**Presumably the outburst actually happened around the year 1,499,997,993 BC and the light of it arrived in 2006. But no matter. (Recall that there's no zero year in the Gregorian calendar before going commental. Also that the distance estimate is wildly approximate, and human life is short.)