This article is more than 1 year old
Blighty orders first 3 supersonic stealth jumpjets
Fleet Air Arm still has tough battle ahead
The UK has ordered its first three Joint Strike Fighter (aka F-35 or "Lightning II") supersonic stealth jumpjets. The initial trio of UK planes will be prototypes built as part of the F-35's development phase, giving Blighty access and input to the jet's final design.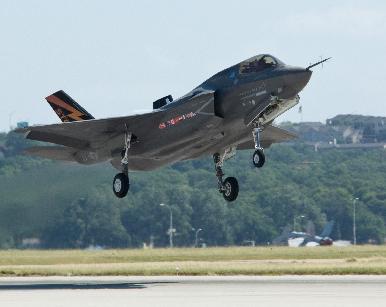 The F-35B operating as a normal runway plane.
"The Joint Strike Fighter will form an essential part of our Future Combat Air capability," said Defence minister John Hutton, announcing the buy yesterday in Washington.
"By purchasing three aircraft for testing, we will secure access to the development of the programme. Working alongside their US colleagues, our pilots will gain an unrivalled understanding of this awesome aircraft and its capabilities.
"This is a vital programme for UK Defence both for the military and for industry, with over 100 UK companies involved in the programme."
The American F-35 programme will produce three different versions. One will be a conventional runway plane, intended for service with the US Air Force and various overseas buyers. Another will be built for catapult launch and arrester-hook landing, and will be bought only by the US Navy on current plans.
The other type, the F-35B, will have a central lift fan driven by the engine and a downward-swivelling exhaust. This will deliver vertical thrust, letting the plane land on a pad like a helicopter if lightly loaded. The F-35B is meant to replace the famous Harrier jumpjet with many of its current operators, including the US Marines, the RAF and the Royal Navy.
There are indications that the RAF is actually more than a bit lukewarm about replacing its present force of Harriers; senior airmen would perhaps prefer to sink that money into enhancing the third tranche of Eurofighter, making the Euro jet into a proper deep-strike bomber. (It can drop smartbombs already, but the RAF regard this as an "austere" capability.)