This article is more than 1 year old
iPhone 3.0 beta reveals mixed blessing
Apple giveth, and Apple taketh away
On Tuesday evening, Apple released a beta of the iPhone 3.0 software it had announced that very morn. Details are now hitting the web - big-time.
Some of the new features will please iPhoneys, while others spell death for popular applications now available on the iTunes App Store.
Apple giveth, and Apple taketh away.
Apple fanboi site AppleInsider was first on the scene with a comprehensive overview of many of the new features, replete with screenshots.
AI's profusely illustrated compendium includes details of copy-and-paste, MMS messaging, the new voice-memo app, Spotlight and Mail searches, expanded landscape-mode use, an enhanced camera interface, easier photo management, an improved YouTube interface, new parental controls, simple contact-sharing, encrypted iPhone backups, and the ability to - finally - sync notes.
The 20-year-old developer of the iPhone game Lights Off, Steve Troughton-Smith, chimed in with a tweet saying that he had uncovered the interface for the much-hoped-for tethering capability - though he couldn't quite recall how he had invoked it. (Note to Steve: MacNN says that you can access it through the iPhone's Network settings. You're welcome.)
How much tethering will cost you is not yet known
At a press confab after the iPhone 3.0 roll-out, Apple SVP for iPhone Software Scott Forstall said that the client part of tethering would be available in iPhone 3.0, but the carrier part was still under development "with carriers around the world." It appears that the young Irishman discovered the client portion.
Also, the geniuses at The Boy Genius Report turned up a new option in the iPhone 3.0 MobileMe Mail-account settings called Find My iPhone that appears to allow users of Apple's online MobileMe service to track their iPhone if it's absconded by some miscreant. Or simply forgotten on the Tube.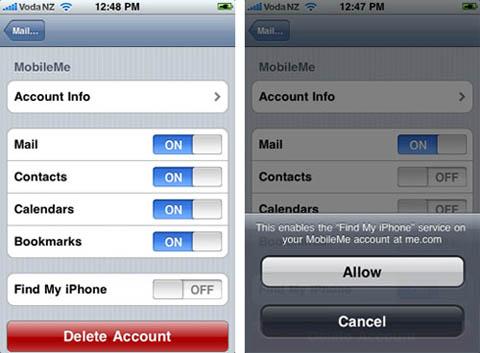 If you're a MobileMe subscriber, your missing iPhone has a new friend
These new iPhone features are all well and good, but they're bad news for some iPhone application developers. Take the new Voice Memo app, for example. Adding voice recording to the iPhone will likely kill off such apps as (App Store links) Recorder (99¢), VR+ Voice Messenger (99¢), Voice Record ($1.99), and Speakeasy Voice recorder ($1.99).
Now that MMS messaging will be built in, neither does the future look all that bright for Get MMS ($3.99), iSendMMS 2009 ($2.99), or MMS Buddy ($4.99).
And since the iPhone 3.0 will now add a larger, landscape-mode keyboard across its bundled-app line-up, Big Keyboard Email (99¢) and its ilk may take a hit. However, one of our quirky keyboarding faves, Shapewriter Pro ($9.99) should remain unscathed - it may not be a landscape-mode text inputer, but its unique drag-to-type interface should retain its fan base.
One last bit of iPhone news: For those of you who are jailbreaking fans, you'll be happy to know that efforts to crack iPhone Software 3.0 are already underway ®.