Late yesterday, Google launched novelty snoop service Street View in the UK, offering views of, er, streets.
At launch, 17 English cities, four Scottish cities, two Welsh cities, and one in Northern Ireland are available for exploration. Up to a point anyway; typically only major thoroughfares in city centres are covered, except in London.
Cities covered, according to Google Blogoscoped are: Birmingham, Bristol, Cambridge, Coventry, Derby, Leeds, Liverpool, London, Manchester, Newcastle, Norwich, Nottingham, Oxford, Scunthorpe, Sheffield, Southampton, York, Belfast, Aberdeen, Dundee, Edinburgh, Glasgow, Cardiff and Swansea.
The images (360 horizontal, 290 vertical) were captures by Google's fleet of Orwellian spycars, whose adventures across Europe we tracked last year.
In October we spied one of Google's cars lurking just outside Vulture Central, and lo, here we are (no, not in the van):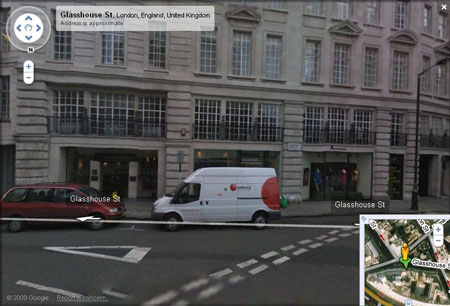 Google's promise to blur out people's faces in response to privacy concerns has been kept up to a point. The automatic system for detecting faces could use some work, as many remain indentifiable.
If you spot anything interesting, send it here. ®