This article is more than 1 year old
Street View captures traditional British Christmas
Shoreditch, antlers and vomit
Updated And so it begins. Just hours after it launched here, we're much obliged to patriotic reader Russ for the first image from Google's Street View to capture the true spirit of Blighty.
Our tableau vivant is set in Shoreditch's Curtain Road, which lies at the heart of London's Nathan Barley country.
The star of the show is undoubtedly the chemically-disadvantaged fellow saying hello to the pavement in 256 colours. We shouldn't overlook the strong supporting turn by his friend in the novelty antlers, however, who is displaying the kind of esprit de corps one only finds in the East End.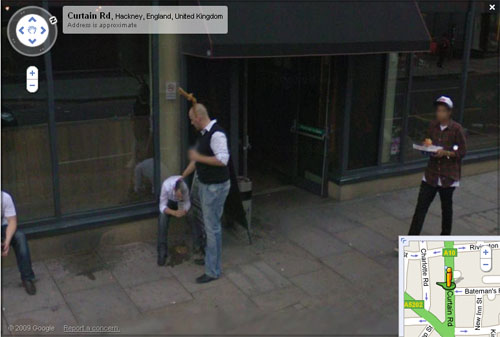 It's enough to put you off your dinner, unless you are the young gentleman strolling past, apparently tucking into a traditional Hackney Christmas feast of deep fried chicken served in a cardboard box.
Update
Google apparently doesn't want to show Britain in all its glory and has deleted the image.
Also thanks to those who pointed out that this is more likely an early evening tactical vomit on a stag night than a Christmas event. We considered that interpretation, and chose to ignore it.