Robo-fish to hunt pollution in Spanish seas
The Search for Sarah Codder begins
---
ROTM Scientists in the UK plan to release a school of autonomous robotic fish into the sea off northern Spain to help detect for hazardous pollutants in the water.
The robots are designed to look like carp and swim like real fish so they won't scare the local meat-based wildlife while patrolling the port of Gijon. Each robo-carp costs upwards of £20,000 to make, measures 1.5 meters long (about the size of a seal) and can swim a maximum speed of about one meter per second (~2.24mph).
Five fish are being built by a robotics team at the University of Essex's school of computer science and electronic engineering. The project has been funded by the European Commission and is being coordinated by the engineering consultancy firm, BMT Group.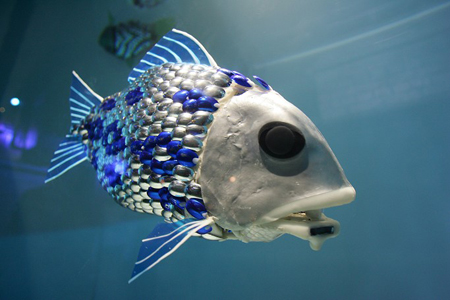 "In using robotic fish we are building on a design created by hundreds of millions of years' worth of evolution which is incredibly energy efficient," said BMT senior research scientists, Rory Doyle. "This efficiency is something we need to ensure that our pollution detection sensors can navigate in the underwater environment for hours on end."
Each robot fish is armed with autonomous navigation capabilities, allowing them to swim around the port without the need of human intervention. They also can return automatically to a charging station when their batteries run low after about eight hours of use.
When the fish return to robo-carp central for a charge, they beam water quality data to boffins via Wi-Fi. Scientists hope to use tiny chemical sensors on the fish to find sources of potentially hazardous pollutants in the water, such as underwater pipeline leaks.
Assuming the trial run goes well, scientists hope to use the robo-carp to detect pollution in rivers, lakes, and seas across the world.
See the fish in action:
Bootnote
Isn't this exactly how the plot of Megaman started?