NYC 'Top Model' stampede: The truth revealed
Exclusive snaps of Manhattan mayhem
---
3: The home insemination attempt
Here's another pic from our stateside snapper. A Massachusetts woman, who's been parked on a sofa outside the Top Model audition all night the better to secure an early spot in the castings has, after an excess of liquor, decided to impregnate her wife with a plastic syringe containing her brother's man juice: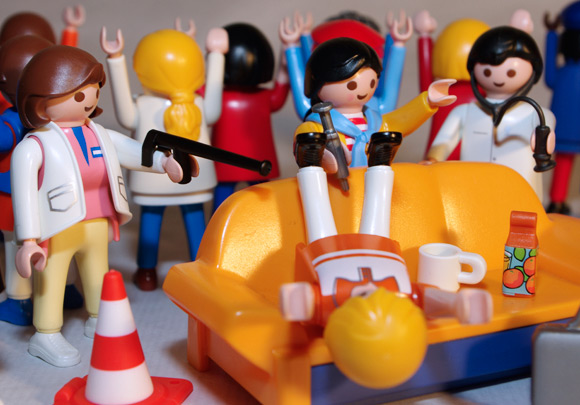 As horrified witnesses scatter, paramedics are seen moving with spacebat-like speed to rescue the relationship. We gather the couple are now reconciled, although bruv is a bit downhearted that he won't after all be Massachusetts' first "fatheruncle", or "fruncle" as they say in the Friends of Dorothy community.
And finally, as regular readers of our sensational on-the-spot pictorials will have guessed, here's the real cause of the Top Model kerfuffle: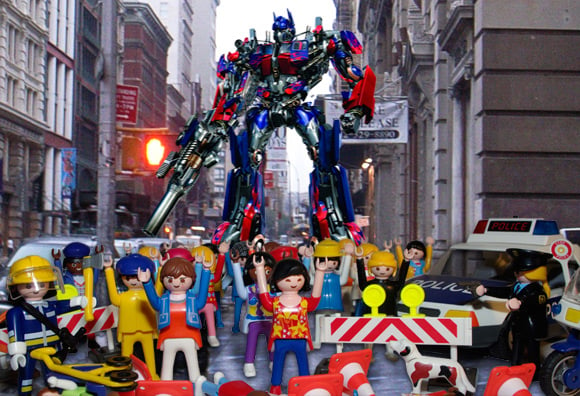 Optimus Prime's anger was, we should explain, caused by Top Model's insistence that only candidates 5' 7" or under were eligible to audition for the show. Having been sold short, Mr Prime is about to express his dissatisfaction in the traditional way. Enough said. ®
Related stories
For your viewing pleasure, we have collected all of El Reg's Playmobil coverage right here.