This article is more than 1 year old
Worship Google, banish those broke business blues?
Journalism prof embraces imaginary perfect company
Not understanding the processes he's proposing to kick over is kind of a motif of Jarvis', and it seems to me reasonable to suggest that he confuses destruction with business re-engineering. It's in no sense novel to say that businesses should be continually examining themselves, their customers and their processes, and should always be asking themselves how new models, new shop windows and new distribution channels affect their business. But that does not mean automatically that their businesses are totally screwed and need rebuilding from basics, nor, if they are, that it is necessarily anything to do with Google and a bunch of rules that Jeff Jarvis imagines Google adheres to.
Assuming - effectively - that everything but Google is buggered allows Jarvis not to bother having anything more than a bar-stool opinion about what companies do and how they work. So with airlines he asks, what if frequent flier miles were a convertible currency (they are to a limited extent, but doesn't the fact that these are known as loyalty programmes tell you something?) and thinks that airlines would glean much useful information by turning themselves into social networking airlines. He doesn't cover the airlines' existing internal and external networks, which know a great deal about you and your movements, and are very good indeed at managing data, balancing pricing and loading, and upselling you on hotels, insurance car rentals and holidays. Sure, grafting some social aspects onto that to make you feel like you belong might be a useful business tool for them, but they won't cede control, and it's not in their interests to do so.
Jeff misses the networks in the auto industry too, puzzlingly claiming that we "buy off the lot, not out of the factory" (is this another reason why the US auto industry is screwed?) and on the one hand, that you can't get personalised cars any more, while on the other (next sentence) they come loaded with junk you don't want. Well yes, they do, and it's personalisation junk you paid good money for, too. Why should the manufacturers follow Jeff's advice and fit a 39 cent connector for an iPod and spoil all those good years when they can get a $300-$500 mark-up?
What actually happens in auto sales on this side of the pond is you check pricing on the Internet (where Autotrader is a more obvious destination than Google), then you call up a dealer once you know your target price, they talk you through colours and upsell you on options, then they arrange to have your particular car magically start rolling along the production line. And then, "why doesn't the dealer... deliver the car to me?" Why Jeff, they do that in Europe, and I feel sure they do it in the States too - have you seen Vanishing Point?
The network here runs from the dealer through to the factory, the dealer is a useful intermediary because they can talk you through the deliberately baffling range of models, options and price plans, and the dealer is further tied into the manufacturer via finance and the technology in the vehicle, which can no longer be fixed by independents. There are networks there, they're not open ones but they work, at least in the good times.
Show us the money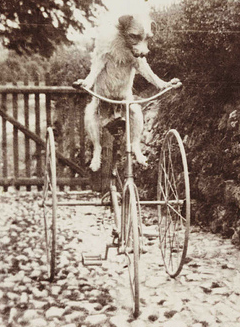 Old dog, new tricks (National Media Museum)
Aside from Google and the internet, Jarvis' special subject is publishing - he's an associate professor of journalism at City University of New York - but even here his knowledge seems rickety. He's particularly shabby on bean-counting, and a discussion he had earlier this year with Guardian Media Group CEO Carolyn McCall at DLD 09, German publisher Burda's annual Web 2.0 showcase, serves to illustrate this. Jarvis consults for both Burda and GMG, incidentally. (An iTunes version of the discussion can be found here)
Both he and McCall were relatively open about their numbers, which displayed a certain asymmetry. GMG is a very large and expensive publishing group that makes a lot of money out of classified ads (Autotrader, which is destination revenue that's not Google revenue, and recruitment, ditto). That revenue translates - has to a large extent, translated - to the Web fairly well, and is used by GMG to fund good works by proper journalists (along with, unfortunately, the bubbleheads at Guardian Unlimited.
It's not exactly a business model because you'd make shedloads more money if you skipped the bit about chucking it down the newspaper hole, but it works insofar as it all stays afloat. McCall made the point that it's an expensive business to pay for on the spot reporters in trouble spots, and that in order to run a proper news organisation you need to have these, and to pay for them. She accepted that local eyewitnesses were useful, but maintained that they were no substitute.