GDC 09 A California-based startup backed by Qualcomm is launching a 3G-enabled home game console for emerging markets using hardware normally intended for high-end smartphones.
Zeebo unveiled what it describes as the industry's "fourth console platform" today at the Game Developers Conference in San Francisco. The company hopes to tap into new game markets like Brazil, Russia, China, and India, where low incomes and rampant piracy have kept most major console makers out.
Speaking at GDC, Zeebo's CEO Jon Rizzo said the console is a complete copy-protected, piracy-protected environment — which is the first hurdle to attracting game publishers to making localized, culturally relevant titles for the regions.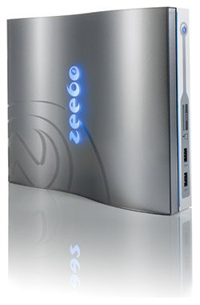 The Zeebo console uses Qualcomm's mobile MSM chipset and BREW developer platform to push budget game titles though a pre-paid, digital distribution model which includes plenty of phoning home to make sure the software that's running is legit.
Zeebo is scheduled to debut for about $200 in Brazil next week and will later head to Mexico, Eastern Europe, India in 2010, and China in 2011. Rizzo said the device will undercut the major consoles which have jacked up their hardware prices in emerging markets to counter scant software profits due to piracy. For instance, the Wii costs about $1,000 if you bought it legally in Argentina, according to Rizzo.
The system is about the size of a Nintendo Wii with graphics somewhere between a PS1 and PS2. Zeebo packs a 528MHz ARM 11 processor — the same CPU found in phones like Sony Ericsson's Xperia X1 and T-Mobile's Android G1 phone. Graphics is handled by a Qualcomm Adreno 130 integrated graphics core.
The system includes 1GB internal NAND flash memory (enough for 50 games), 128MB of DDR SDRAM, a gamepad, three USB 2.0 ports, and an SD slot. Max screen resolution is 640x480.
The game will launch with four pre-embedded games (FIFA 09, Need for Speed Carbon, Brain Challenge, and Prey Evil) and offer a free download of Quake. Digital downloads through the company's ZeeboNet 3G network is the only way content will be offered. There will be 15 games available on launch day, and 30 games within the first 90 days, according to Rizzo.
Zeebo will attempt to lure customers away from piracy by charging about $12 per game — around $2 more than the average game sold on the grey market. Each download must be prepaid before being authorized, and the game only will work with the user's unique subscription and console ID. Local partners will decide which games go on the console.
Publisher's that have already signed on include Namco, THQ, Capcom, EA, Activision, and ID Software. Rizzo hopes others will be attracted to Zeebo's minimal development costs and marketing requirements along with a promise of quashing piracy on the console. ®