This article is more than 1 year old
Apple Time Capsule
One network, multiple standards, simultaneously
Review This update of Apple's Time Capsule Wi-fi access point-cum-NAS box went rather unnoticed amid the recent barrage of Mac revamps. However, it works well and boasts an ease of use that justifies its slightly above-average price tag.

Apple's Time Capsule: updated for simultaneous dual-band wireless usage
For those who aren't familiar with it already, the Time Capsule takes one of Apple's standard Airport Extreme wireless routers and bolts a hard disk into it in order to provide a network storage system. It's primarily designed for use with the Time Machine backup software that's built into Mac's OS X 10.5, but it uses standard 802.11a, b, g and n wireless technology so it can be used with older Macs and Windows PCs too.
We tested the 500GB version, which costs £229, and there's a 1TB model as well, although this is priced at a far less attractive £379.
Not surprisingly, the Time Capsule looks much like the Airport wireless router, although the built-in hard disk means that it's a little larger. The AC adaptor brick is built in too. It's a gleaming white square box, measuring just under 200mm wide and deep, and less than 50mm high.
It's a lot neater than many other wireless routers and NAS drives that we've seen recently, and the hard disk is virtually silent, even when copying files onto it from multiple machines simultaneously, so you can place it in any convenient location without worrying about the noise.

Decent array of ports
In addition to its wireless capabilities, the Time Capsule also has three Gigabit Ethernet ports for conventional wired networking, along with a USB 2.0 port for connecting a printer or another USB hard disk in order to add extra storage. There's also a fourth Ethernet port that takes the feed from an ADSL or cable modem, or to an existing network router.
This is one aspect of Apple's Airport Extreme and Time Capsule products that has always baffled us. Most wireless routers these days include an ADSL modem and router so that you can set up your network and connect it to the internet with just that single device.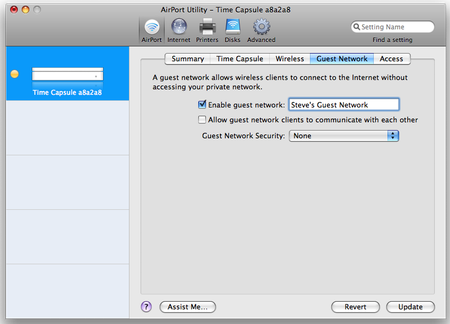 Provide visitors with internet access
However, neither the Time Capsule nor the Airport Extreme router includes a modem, which means that anyone that wants to connect network to internet connection also has to plug the Time Capsule into a separate device.
That leaves you with two lumps of plastic sitting on the floor by your telephone socket, along with two sets of messy cables and power leads. We'd much rather have a combined modem-router in a single box – especially at this price.
The main difference between this update and the original Time Capsule that was announced this past January is its new 'simultaneous dual-band' capability. This means that the Time Capsule can connect to other wireless devices using both the 2.4GHz frequency band used by 802.11b/g devices, and the 5GHz band used by the faster 802.11a standard. The new, faster 802.11n can operate in either band.
The original Time Capsule could work in 2.4GHz and 5GHz, but could only use one band at a time. So if you set it up to work in the 5GHz band for your laptops and later wanted to connect a 802.11g-only device, such as a phone, you had to reconfigure the WLAN. The new model can connect to one set of machines on one band while connecting to other devices on the other band - at the same time.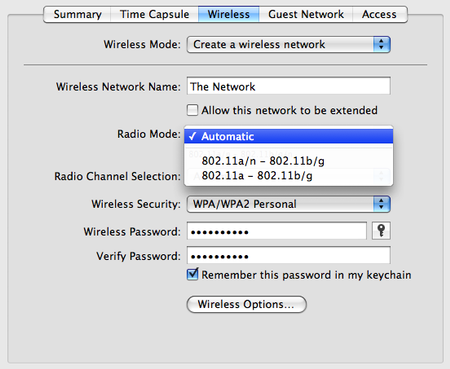 Time Capsule will select Wi-Fi bands automatically
To confirm that this feature worked as advertised, we set up a test network that used the Time Capsule to connect to both an 802.11n MacBook and a trusty old PowerBook with only 802.11g. And, just for fun, we threw in a Toshiba Qosmio laptop running Windows XP that was also equipped with 802.11g wireless networking.
Mac and Windows versions of Apple's Airport Utility configuration software are included on CD-Rom and, once installed, the program automatically detects the Time Capsule and then provides two options for setting up your network. More experienced users can click on the Manual button, which allows them to configure the wireless router settings for themselves, or you can just allow the Airport Utility to guide you through the process one step at a time.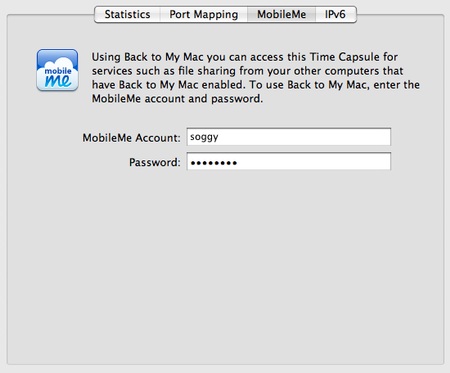 MobileMe subscribers get on-the-desktop access to their Time Capsules over the internet
As you'd expect from Apple, this process is pleasantly straightforward, and keeps the technical jargon to a minimum. The Airport Utility only recognises other Apple devices, so if you live in a densely populated area it won't bother to show you all the assorted BT HomeHubs and other wireless routers in the immediate vicinity.
The Airport Utility then prompts you to assign a name and password to the Time Capsule, and asks if you want to set up a new network, replace an existing Airport or Time Capsule unit, or simply connect the Time Capsule to an existing network.
In the past, we've found the Windows version of the Airport software to be a bit temperamental – almost as though it were reluctant to sully the homogenous purity of an Apple-only network by letting a Windows PC into the club. However, this time around, the Airport Utility ran perfectly well on our Toshiba laptop, and we didn't encounter any Mac-to-PC compatibility problems when setting up our network.
Once you've used the Airport Utility to configure the Time Capsule's network settings you can connect additional Macs and PCs to the network simply by using their standard networking features, so there's no need to install the Airport software on more than one machine. After we had done this our MacBook automatically asked us if we wanted to use the Time Capsule for regular back-ups using Time Machine, and our PC laptop also popped up a little message asking for the password and then displayed the Time Capsule as a network-attached hard disk.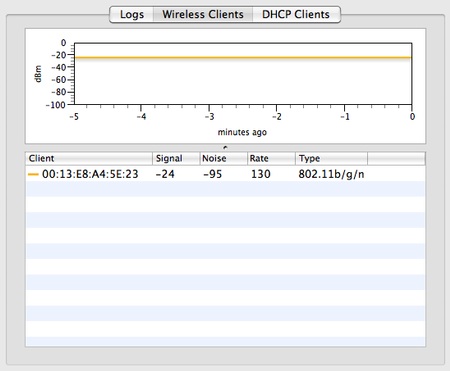 Keep tabs on wireless access
Up to this point, the Airport Utility had proved admirably straightforward and easy to use. However, it did seem to omit one important feature. When you click on the Time Capsule icon on your Mac or PC desktop, it opens to reveal a single folder simply named 'Data'. You can restrict access to this folder by setting up a password during the initial installation process, but the manual says nothing about creating private folders where individual users can store files and keep them from being seen by other users on the network.
After randomly rooting through the online Help files on our Mac, we eventually found a reference to 'user accounts' that seemed to suggest this was possible. We then went back and explored the Manual section of the Airport software until we discovered a File Sharing option that, when activated, made a new Accounts tab magically appear within the program window.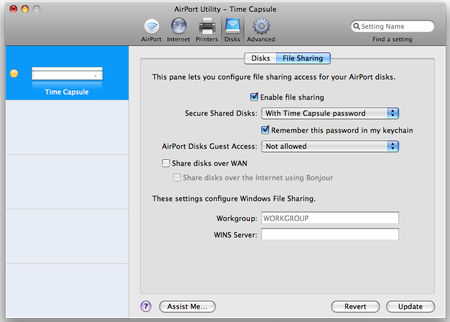 Before...
We suspect that Apple hid this feature away in order to keep things simple – it's the old 'Apple knows best' syndrome that Mac users are familiar with – but it's a mistake not to at least mention such an important option in the manual so that people know it's there if they need it.
There's no support for UPnP/DLNA media-player features either, but if you're enough of an Apple fan to buy a Time Capsule you'll probably be using iTunes for your music and video library, which already has its own network streaming features built into it.
But, as we've mentioned, the key feature in this update is its dual-band support. This works well, as the Time Capsule automatically detects the speed of each device on the network and connects at the fastest speed supported by that device – you don't even have to adjust any settings in the Airport software to make this happen. And, although it is using two separate frequency bands, the Time Capsule links all your devices on a single network, so that we were able to transfer files between the 802.11g and 802.11n devices with no problems at all.
Data transfer speeds across the wireless network will obviously vary, depending on whether each computer used 802.11g or 802.11n. Our old PowerBook's 802.11g connection took a leisurely 10.5 minutes to transfer 1GB of data onto the Time Capsule, and that speed (13.00Mb/s) remained the same regardless of whether we transferred a single large video file or a folder containing about a hundred AAC audio files.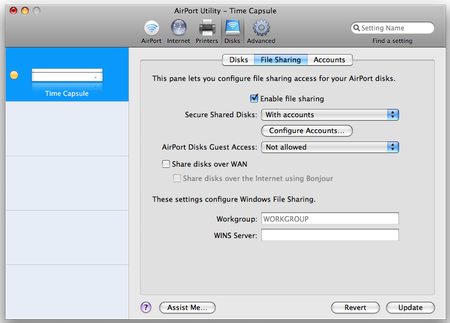 ...and after, with disk Accounts enabled
Those speeds were also constant in both directions, copying files from the Mac to the Time Capsule and back onto the Mac once more. And we were pleased to see that the Time Capsule's performance wasn't affected even when we copied files from different machines that used both bands simultaneously.
Using 802.11n on the newer MacBook cut that data transfer time to just over 6.5 minutes (20.48Mb/s), although that still trails far behind the 90 seconds per gigabyte (91.02Mb/s) that we got when we plugged in the MacBook's Gigabit Ethernet interface instead. And even the 10/100Mb/s Ethernet on the PowerBook and Qosmio managed speeds of around 140 seconds per gigabyte of data (58.51Mb/s).
Not surprisingly, Apple's manual tells you that you may have to leave your machine running overnight the first time you use Time Machine to perform a complete system backup on to the Time Capsule, although subsequent backups will be much faster. If all you want is a high-speed network back-up device then a basic Ethernet NAS drive will be both faster and cheaper. However, for home and small business users who just need to back-up files every now and then, those speeds should still be adequate, as well as providing the convenience of a completely wireless network set-up.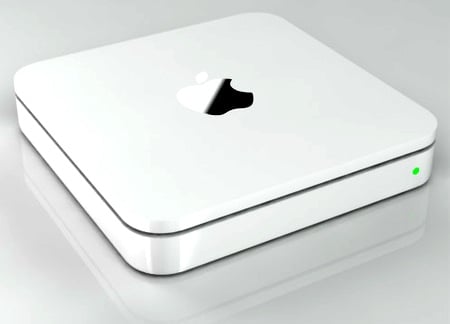 Cool looks
Another convenient addition is the new 'guest network' feature. This allows you to set up a secondary network that gives other people access to your internet connection without needing a password, but which prevents them from using other resources on the network, such as a network printer or the contents of the Time Capsule hard disk.
Apple has also added support for its MobileMe online service, which allows you to remotely connect to the Time Capsule hard disk over the Internet. That'll be handy if you're already a MobileMe subscriber – at £58 per year – but we've not been impressed by MobileMe since its rather shaky launch last year, and there are other NAS drives that provide their own remote access features for free, so this isn't a 'must have' feature.
A conventional wired NAS drive would cost around £130-150 for 500GB, so £229 for the 500GB Time Capsule isn't too bad once you include the versatile dual-band router in that price, along with features such as the guest network and Time Machine integration - although we'd really be sold if it included an ADSL modem as well.
We'd recommend the 500GB model to Mac users who are looking for an easy-to-use network drive, although that ease of use obviously won't be such a strong argument for PC users who don't have access to the Mac's Time Machine software. However, the 1TB model seems seriously over-priced – just buy the 500GB model instead, along with a cheap USB hard disk if you need a bit of extra storage.
Verdict
As is so often the case with Apple products, the Time Capsule's great strength is its ease of use. Setting it up really is extremely straightforward, so it will certainly appeal to ordinary home users and businessfolk who don't know much about networking. The speed of wireless data back-ups isn't terribly impressive, but should be adequate for day-to-day use. ®

Apple Time Capsule
A bit pricey, but the Time Capsule's admirable ease of use makes it a good choice for home and small business users.