Video-sharing moneypit YouTube has launched a new mobile client, for S60 and Windows Mobile devices, providing mobile access to more than 30,000 videos of dancing cats.
Most mobile access to YouTube has been through a limited interface which links to the on-device media player for playback. We've never had a lot of luck getting YouTube to work on mobile devices, and never cared enough to work out what the problem was, but now we don't have to as the new mobile client works perfectly.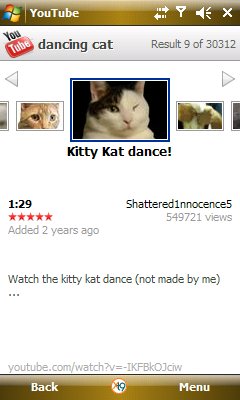 Most S60 and Windows Mobile devices are supported by the client which can be downloaded from http://m.youtube.com. Some users have reported having to change their country to get the download link to appear, and when we tried it on a Samsung Omnia the link didn't appear in Opera but was there when we loaded the same URL into Internet Explorer. That allowed us to download the client and quit IE until the next time we desperately need compatibility. On S60 devices we had no such problems.
Once installed the client works well, even trying to be a bit finger-friendly where appropriate, and playback (of YouTube streamed content) is much better than that offered by the in-built media player. Still, content from the BBC plays back fine using the player, so it's a matter of the client suiting the content rather than any superior technology.
If you want YouTube on a mobile phone then the client offers a much better experience than was available, though unfortunately it can't make the content any more appealing. ®