Taking the bull by the balls: A NetApp history
Surefire Hitz, or a load of WAFL?
---
Review People hungry for storage technology details will not be impressed by Dave Hitz's history of NetApp, How To Castrate A Bull. All they will learn about WAFL, Hitz's seminal invention underpinning NetApp's filer success is that it is "Absolutely wonderful technology that our non-technical customers don't really want to hear about". Ah.
The book, a kind of Hitz autobiography, is billed as providing unexpected lessons on risk, growth and success in business. We can't really understand NetApp's progress without understanding its technology and how it relates to that of its competitors, such as Auspex and Sun in the early days, and EMC latterly.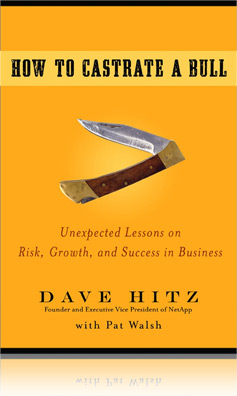 The book is a non-technical history of NetApp and the main events in its life. The initial appliance ideas and contrast with Auspex are informative. The rocket-like growth of the company and the subsequent need for a new type of big company CEO which led to the painful ejection of fellow founder Mike Malcolm are also well-documented.
Hitz ruefully says that accepting VC funding meant that control of the company was seceded to the venture capitalists, but paradoxically this made it easier to get rid of a CEO and founder who no longer fitted. Malcolm didn't have a big enough NetApp holding to be unsackable.
His account of the hypergrowth dot-com period and then the crashing to earth is interesting and a good read on its own, as are various points he makes about running companies in such circumstances. He tells a good story, uses great anecdotes and examples, and is a transparently very nice guy. One example he uses to illustrate an engineer's mindset is the half-glass one - optimists say it's half full, pessimists that it's half empty... and an engineer that it's an oversized glass. Priceless.
The book is also good on the need to change strategy at various points; from indirect sales to direct sales and then adding an indirect channel again. It becomes frustrating to techies when Hitz talks about adding SAN functionality to DataONTAP, not that DataONTAP is ever named in the book, with not even an index or glossary entry for it. SAN functionality was simply added to NetApp's products.
He reveals that he ran engineering for a while and then stepped back to become a kind of internal evangelist and strategist for what NetApp should become. This he presented as a future history, an account looking back at NetApp from a time in the future. It was successful.
Hitz reveals that he's worked on a second internal future history taking the company up to 2008. We are seeing the benefits of NetApp's adoption of these strategies.
Perhaps there is a third future history in action now and NetApp's response to cloud computing is included in it?
He reckons we are in an Age of Data, which is true enough; but it would be very, very nice to have a closer look at his thinking and a more informed view of the technology world that NetApp operates within, which led to things like the Performance Accelerator Module (PAM) controller caching, along with ASIS deduplication and V-Series management of solid state storage.
There is no mention of the Spinnaker acquisition, nor of NetApp product clustering. In fact, NetApp's acquisitions are left out - an omission of a topic that perhaps should have been included.
The book is published by Jossey-Bass, a Wiley imprint, and suffers from cheap paper and a lack of photographs. But still, lasting impressions are formed of Hitz's profound respect, liking and admiration for NetApp CEO Dan Warmenhoven, the good discussions of company values, the need to keep on motoring when in the growth phase and great discussions of NetApp culture.
But what a pity the technology side was downplayed. The book only tells half the story for us techies, leaving us hungry for much, much more. Still, with half a loaf in mind, it is a good story and a good read. ®