This article is more than 1 year old
Penguin-free Linux 2.6.29 kernel released
Tasmanian devil gives Tux the boot (for now)
Linus Torvalds has released a new version of Linux that temporarily kills off Tux, the cutesy Penguin mascot.
Yesterday the big daddy of Linux announced the availability of Linux kernel 2.6.29, which comes with support for a preliminary version of the Btrfs filesystem.
Support for the filesystem created by Chris Mason has been widely anticipated by the Linux community. Btrfs is expected in due course to replace the Ext filsystem.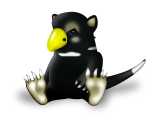 More of a surprise was the arrival of what Torvalds described as a "(temporary) change of logo to Tuz, the Tasmanian Devil" for the latest Linux kernel.
Why the switcheroo, and does this mean curtains for the Tux Penguin logo?
Apparently not. Instead, Torvalds changed the kernel's logo temporarily to encourage openistas to support the Save The Tasmanian Devil campaign. And if you look closely, the stand-in mascot known as Tuz is in fact sporting a penguin mask. Presumably to cover up the effects of the facial tumour disease which is ravaging the TasDev population.
Besides the playful logo makeover, Linux 2.6.29 comes with several driver updates and a few m68k header updates.
Torvalds doesn't feel anyone needs to get overly excited by the latest Linux kernel, though he does confess to have been mulling a ninth release candidate of version 2.6.29.
"Most of the non-logo changes really shouldn't be all that noticeable to most people," he noted. "Nothing really exciting, although I admit to fleetingly considering another -rc series just because the changes are bigger than I would have wished for this late in the game. But there was little point in holding off the real release any longer, I feel."
He plans to "wait a day or two" before starting the merge window for 2.6.30.
"I do that in order to hopefully result in people testing the final plain 2.6.29 a bit more before all the crazy changes start up again," he said.
The full rundown of kernel newbies can be viewed here. ®