This article is more than 1 year old
Pure Digital Evoke-2S DAB and FM radio
Quality sound
Review With its 'chip company that also makes radios' label firmly in the past, Pure Digital can now move on to produce products at the top end of the market. But to justify its premium price of £170, the "luxury" Evoke-2S needs to deliver a something special. Fortunately for Pure, it does just that.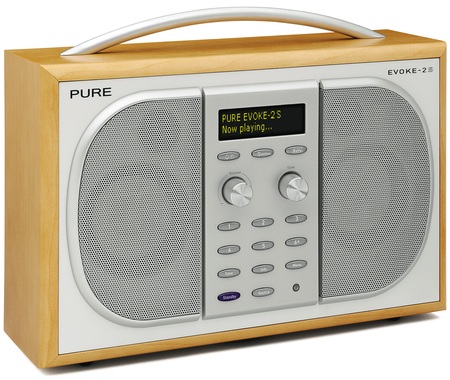 Pure's Evoke-2S: focused on sound quality
Right out of the blocks, the machine feels chunky and well built - it's 290 x 210 x 120mm. You certainly wouldn't want to drop it on your foot, but it's still light enough to move around easily enough. The machine is done out in the familiar Evoke maple finish with carry handle, and has an attractive brushed aluminium face, with click dials and push-button controls.
Everything is laid out simply and labelled clearly, so there's no need to go near the manual to figure out which button does what. All the controls feel solid and precise.
The machine isn't overloaded with accessories. In fact, you get European and UK power leads, and that's it. However, you can purchase the company's ChargePAK internal rechargeable battery for true portability, as well as an iPod dock. We can't help feeling that, for the price, the Evoke-2S really should come with these in the box.
In a bid for environmental credibility, there's a power switch on the back that flips between turns the radio off entirely to eliminate even the power consumed when the thing's on stand-by. Around the back, you'll also find an unused mini USB Port - it's for "upgrades", Pure says. There's a 3.5mm input socket for portable digital players or a CD deck, as well as a 3.5mm headphone socket.
Round the front, there's the screen, which we initially felt looked a little small and even after testing, we felt Pure could have been a little more generous here. But the yellow-on-black, 128 x 22 OLED screen is one of the brightest and smoothest we've seen on a DAB radio and deals with all the information available quickly and with good clarity.