Pure Digital Evoke-2S DAB and FM radio
Quality sound
---
The unit has a good sized detachable aerial which helps to deliver a quick automatic search on start-up. The unit picked up all the stations available in our area. There's a good level of coverage with full DAB Band III (174–240MHz) and FM reception (87.5–108MHz). The unit is capable of decoding all DAB and DAB+ transmission modes one to four, up to and including 192Kb/s. You can also trim the DAB station list or rearrange it into your preferred order should you so wish.
The alarm functions - wake, kitchen and machine sleep timer - are all easy to find and set. The review function, which can pause live broadcasts and rewind back through the previous 15 minutes of a show, worked well, although the duration varies from station to station, and depends upon the quality of the broadcast. The radio provides a generous 50 DAB and 50 FM station presets, and is also easy to tune either automatically or manually.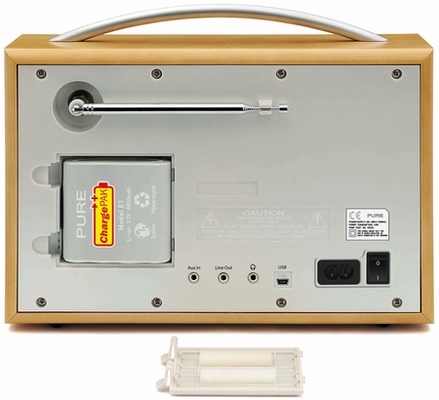 Battery not included. No, really
The Evoke-S2 also supports Intellitext, textSCAN, FM RDS and RadioText. Not huge amounts of Intellitext around as yet, but for now the football tables available on TALKSport work well.
Despite having a decent feature set, Pure's pitch for this radio really centres on its sound quality. The Evoke-S2 has a digital end-to-end audio sub-system which uses an integrated switch-mode power supply, class D amplifiers and custom-tuned speakers together delivering 30W RMS output. The unit boasts two mid-range 7.5cm drive units and two 1.9cm dome tweeters which give the unit genuine range and clarity for its size.
Scanning through the radio channels, we decided to give Radio One a try. Surprisingly, Sara Cox wasn't playing something specifically aimed at 12 year olds. AC/DC's Back in Black on Radio One - whatever next? A good point to try some volume, and we found this radio can go very loud without loosing its clean sound.