Pure Digital Evoke-2S DAB and FM radio
Quality sound
---
Pure says the unit can handle lots of bass and there's a bass adjustment mode that's easily accessible from the front panel, so we turned it right up. What is really nice here is that when the bass is turned up, you actually get more bass, not just a vague thumping sound and loss of clarity on the rest of the frequencies, as per so many bass-boosters.
With the bass output back on a more usual setting, we found Angus Young's high-pitched guitar solo also received good attention. Noel Gallagher's Half The World Away was delivered with accuracy with the acoustic guitar parts of the song coming through with particular clarity.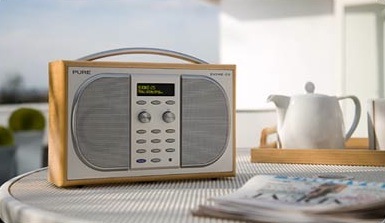 Kitchen-friendly styling?
Talk radio is also handled with aplomb, voices sound real and alive not just words falling out of the speakers.
The Evoke-S2 performs almost as well in FM mode, but with DAB having the slight edge as the sound feels a little fatter. Plugging in a portable music player also delivers good results, though your own results will depend on the player you're using and the format your music is encoded in. But even with low-grade MP3s, the unit doesn't sound bad.
We also got a pleasant surprise when we plugged in a long since retired portable CD deck. The extra data really gave the radio's capable drivers something to get stuck into. The unit is actually good enough to form a good partnership with a more serious, non-portable CD deck.
Verdict
There is not much that the Evoke-2S that doesn't do well. If you're serious about quality in your radio, then it's well worth a look. The audio quality really does surprise, and the unit also has enough functionality in its locker to deliver more than just good sound. It's just such a shame that it's really too expensive. ®
More Radio Reviews...
| | | | |
| --- | --- | --- | --- |
| Pure Digital Avanti Flow | Roberts RDK-2 | Revo Pico RadioStation | Pure Digital Evoke Flow |

Pure Digital Evoke-2S DAB and FM radio
If a quality approach to radio functionality and playback is what you seek, check out this sure-footed flagship model from Pure.