Review We're desperately keen to see the new Shuttle SX58H7, which supports the Core i7 family of processors, but it's currently listed as "coming soon" so we shall have to be patient. In the meantime, Shuttle suggested, why not take a look at the SP45H7?
So we did.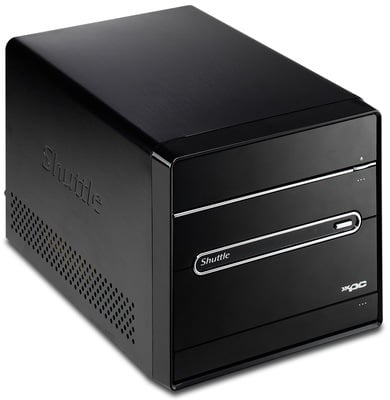 Shuttle's XPC SP45H7: poor value?
We had a sense of déjà vu as we unpacked the SP45H7 as it has a great deal in common with the SG45H7 that we reviewed last year. The difference in specification boils down to the choice of an Intel P45 chipset, rather than a G45, which in turn means there are no integrated graphics. The list of ports and connectors on the two models are identical except that the SP45H7 doesn't have the HDMI and VGA ports you find on the back of the SG45H7.
Fair enough - you buy an SP45H7 knowing that you're going to have to install a graphics card when you build your Core 2 system - but it may come as a surprise to find that the SP45H7 costs slightly more than the SG45H7. The difference in price is £20 which is hardly a fortune, but we already felt the SG45H7 was overly expensive so the idea of paying even a little bit more for the SP45H7, which provides fewer features, is unappealing.
Perhaps, we mused, the SP45H7 has hidden depths and has some extra features tucked away? After all, the G45 chipset is aimed at the mainstream buyer who's looking for a highly integrated system, while the P45 is the choice of the performance enthusiast.
When we tested the SG45H7, we ran it both with the integrated Intel graphics and also with an AMD ATI Radeon HD 4550 graphics card, so we built the SP45H7 to the same specification using a Core 2 Duo E8500 CPU, 2GB of fast Kingston DDR 2 memory and a Western Digital Caviar Black hard drive along with the HD 4550.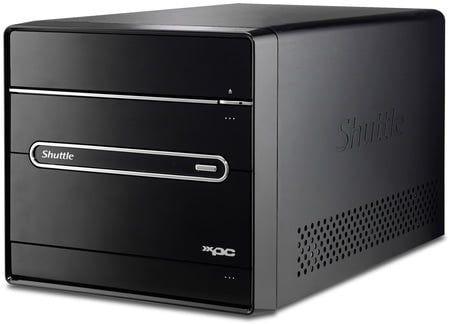 No longer a true small form-factor PC
The layout of the Shuttle SPC follows the familiar form. Remove three thumb screws and the cover lifts off. Undo two more screws to remove the drive bays. A further four screws secure the CPU fan housing, and four captive screws retain the CPU cooler. Plug in a CPU then install the memory, graphics card, a hard drive and optical drive and you have a new PC.