It's the same formula as the SG45H7, except that you're obliged to install a graphics card and a small card such as the HD 4550 goes in easily as the framework of the Shuttle is wide open and offers plenty of access.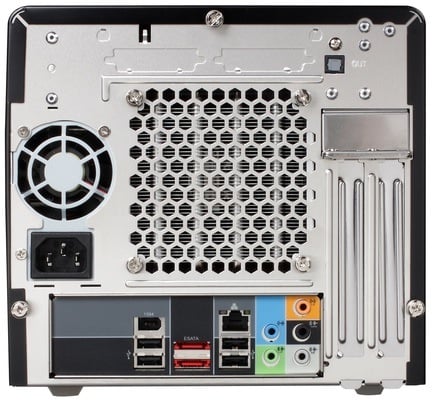 The SP45H7 lacks the HDMI and VGA ports found on the...
The problem is that the connector for the fan of the CPU cooler sits at the rear of the motherboard next to the graphics card slot where the graphics card blocks access to the connector. If the cable was a little longer it would be possible to make the connection and then slide the fan housing into place but as things stand it's a bit of a struggle.
Both systems achieved identical scores in 3DMark06, which is exactly what you would expect when you use the same graphics card and CPU. Our test results in PCMark05 show something of a discrepancy as the SP45H7 returned a lower score in the graphics element of the test than the SG45H7. This looks odd but is something we sometimes see with a new installation of Windows Vista and a change in graphics driver. Both systems achieved the same score in the CPU and memory elements of PCMark05 and similar scores in the HDD test so we're confident that the SG45H7 and SP45H7 are pretty much identical in terms of performance.
Next, we got busy with some upgrades. Swapping the WD Caviar Black for an Intel X25-M SSD raised performance and also helped to quieten the Shuttle. This is an upgrade we thoroughly recommend but it's a big ask with the price standing at £300.
Then we swapped the 3.16GHz Core 2 Duo E8500 for a 3.00GHz Core 2 Extreme QX9650 which had a surprisingly tiny benefit in PCMark05. The good news is that the power supply handled the load without any problems. The power supply carries an '80 PLUS' logo which doesn't indicate an 80W rating but instead refers to its efficiency.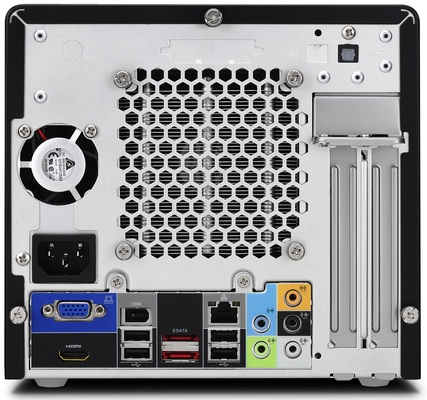 ...G45-based SG45H7
The rating of the Shuttle PSU is 300W, which means that the SP45H7 will support any Core 2 processor that fits the socket along with any graphics card with a six-pin power connector. If you yearn for a Radeon HD 4870 X2, you'll be out of luck.