At this stage the DDR 2 memory was running at the default speed of 667MHz, which is horribly slow. We were able to raise the memory/frontside bus divider speed in the Bios to the maximum supported speed, 800MHz, however this had a detrimental impact on performance and clobbered hard drive performance in PCMark05.
The Bios also supports faster memory speeds, so we raised the Ram voltage and cranked up the memory divider to give a speed of 1066MHz and the system froze solid, forcing us to clear the Bios by sticking the tip of a tiny screwdriver through a hole on the back of the Shuttle to activate the Clear CMOS button.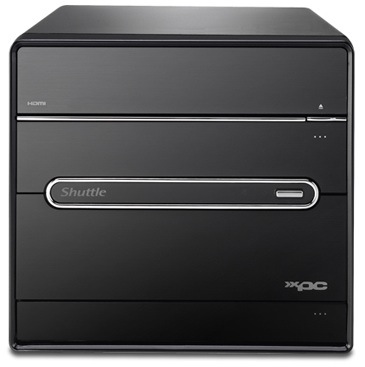 Performed as promised - but just too pricey?
Although the Shuttle had behaved exactly as promised in the specification, this caused us some concern as we had been hoping to see some sort of benefit from the move to the P45 chipset. As a final step, we upgraded the HD 4550 graphics card to an HD 4850 and the performance leapt forward. The result was a decent PC that delivered the goods and was fully capable of playing games, although it didn't get the full potential from the memory that we used.
The Shuttle kept the HD 4850 graphics card and QX9650 CPU cool without making a terrible racket and in that sense the SP45H7 is a success. The problem is, the SG45H7 can perform exactly the same task and also offers you the option of using integrated graphics to cut the power draw and noise level and you save money into the bargain.
Verdict
We took a long hard look at the SP45H7 to see whether it offered extra features that might prove to be tempting when you choose the barebones for your next PC but we came up dry. We had hoped that the SP45H7 might be better suited to the performance enthusiast than the SG45H7 but our hopes were in vain. ®
More Desktop PC Reviews...
| | | | |
| --- | --- | --- | --- |
| Shuttle X27D | Dell Hybrid Mini | Shuttle SG45H7 | Eee Box B202 |
Sponsored: Webcast: Simplify data protection on AWS

Shuttle XPC SP45H7
Why pay more when you can have integrated graphics, HDMI and identical performance for less?