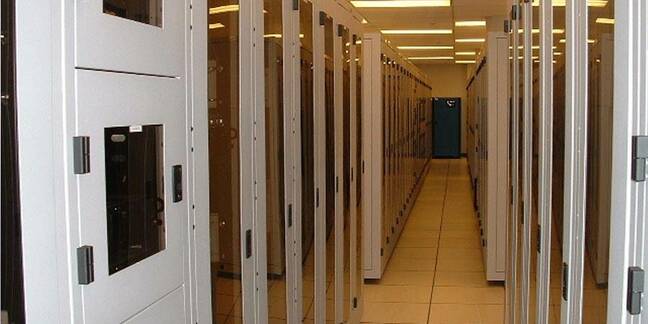 Comment InfiniBand supplier Voltaire may be moving towards a twin InfiniBand/Ethernet strategy as InfiniBand looks to get boxed in by 10gigE and the coming 100gigE.
InfiniBand is a low-latency and high bandwidth interconnect that currently runs at 20Gbit/s and is transitioning to 40Gbit/s. It is used as a cluster interconnect in High Performance Computing (HPC) data centres, for things such as Genome sequencing and other bio-sciences applications, and with supercomputers. InfiniBand is also used inside multi-processor/controller server and storage products, such as Isilon's IQ Series of clustered file storage products, Sun's Constellation switch and the Oracle-HP Database Machine.
InfiniBand is a fabric with host communications adapters for servers linking across cables to a switch. Voltaire makes switches, multi-service switches with InfiniBand, Gigabit Ethernet and Fibre Channel integrated together. It recently announced a deal with IBM to make switches for its Bladecenter.
With Ethernet rated at 10Gbit/s for now InfiniBand should be walking all over it, but it isn't, despite Voltaire and competitor Mellanox positioning InfiniBand as the data centre networking convergence fabric, capable of carrying Ethernet and Fibre Channel as protocols layered onto it. In fact an Ethernet blitzkrieg is poised to trample across data centres with Cisco, Force 10, Juniper, Extreme and Brocade/Foundry all pushing the Ethernet economics story as well as the new, shining, never lose a packet, low latency data centre Ethernet (DCE) pitch.
You would expect Voltaire to be worried but Asaf Somekh, Voltaire's marketing VP, says: "In general, we really like what we see in terms of convergence."
He takes it for granted that convergence is gradually taking place: "Fibre Channel (FCoE) and and regular network traffic will converge over some time, not overnight.
"Ethernet is gradually loaning or stealing capabilities from InfiniBand. DCE is changing Ethernet from the ground up into something that's much closer to InfiniBand. From Voltaire's perspective the process is converging InfiniBand and Ethernet, getting them much closer in the protocol sense."
Voltaire founded the Open Fabrics Alliance in 2004, when it was called the OpenIB Alliance, to accelerate the development of open source InfiniBand drivers and, a couple of years later, added in Ethernet, expanding the charter, so, he said: "InfiniBand-developed protocols can move to Ethernet."
Here's a possible key statement, for an InfiniBand supplier: "When you run these protocols you're agnostic of the underlying fabric." He expanded a bit on this, saying: "We have worked on protocols that we knew would be relevant to Ethernet as well. Ethernet is becoming so close to InfiniBand and we're leveraging our technology."
This gives rise to a question; is Voltaire's identity changing from an InfiniBand fabric-based company to a high-speed, low-latency, lossless protocol networking company? Somekh said the question was "interesting".
A conclusion could be that we might see Voltaire introducing DCE capabilities into its switches. Think Infininet or EtherBand as a potential future for Voltaire, and a migration path for InfiniBand suppliers whose mantra may become "Adapt Ethernet or die". ®
Sponsored: How to simplify data protection on Amazon Web Services