Apple sizes iPhone for dog's nose
Scent of a fanboi
Apple has filed a patent application for a set of techniques to enhance security of iPhones and laptops using biometric sensing and other technologies.
Some of the identification methods described in the filing would automatically sense your unique personal attributes without you needing to perform a separate device-unlocking action - or even being aware of their operation.
And when we say personal, we do mean personal. In addition to now-familiar biometric techniques such as fingerprint and iris scanning, the filing describes sensing "features of a user's ear canal, an odor associated with the user, a user's DNA, or any other suitable biometric attribute or information."
There's no mention of whether a pongy password would be rendered inoperable by the too-liberal application of cheap cologne or whether it was inspired by a common canine greeting.
The illustrations in the filing, which is entitled "Embedded Authentication Systems in an Electronic Device," depict an iPhone and a MacBook.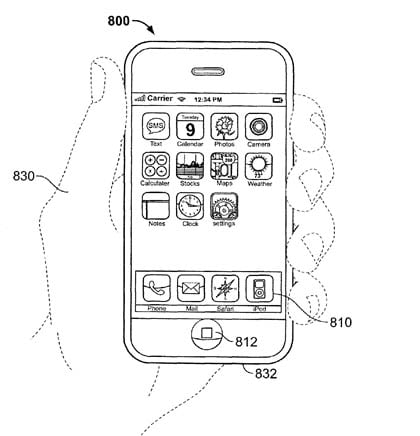 Shake your iPhone in the correct sequence to prove you're you
Some of the described techniques, such as the ear-canal I.D., are clearly intended for iPhone use - just lift your 'Phone to you ear, and it will be able to tell if you're authorized to answer that call.
Others are more laptop-oriented. One, for example, describes a fingerprint sensor that's built directly into a keyboard - start typing and your MacBook will know who you are.
Fingerprints, by the way, are not the only hands-on techniques described in the filing. Also mentioned are unique personal features such as a "hand print, palm print, knuckle print, blood vessel pattern, or any other suitable portion of or under the user's skin."
While subcutaneous identification might sound far-fetched, Sony has already developed a vein-based I.D. system, and work is underway on biometric knee-cap scanners.
Eye-scanning described in the filing includes not only iris recognition, but also "movements of the user's eyes," which is in line with the work some Japanese researchers have done on an accurate I.D. system based on eyeball twitches.
Face-recognition is also described (already used in some hotels), to be accomplished by an iPhone's camera or MacBook's iSight. No word, though, as to whether Apple's Parental Controls capabilities will benefit from the wrinkle-seeking age verification technology developed for Japanese cigarette vendors.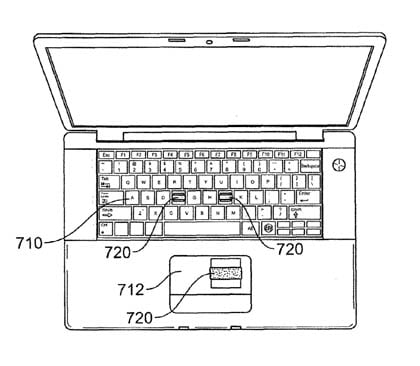 Your keyboard and your trackpad may read your fingerprints
Not all the security techniques described in the filing are biometric. Also described are pattern-matching codes, where instead of entering a password, a user selects a series of patterned icons by a predetermined set of attributes.
The filing also describes accelerometer and gyroscope-aided motion sensing as a way of authenticating your identity. Tap the correct pattern on your iPhones display, shake it the appropriate number of times in the appropriate series of directions, or tilt it back and forth in a predetermined pattern, and it'll know you're really you.
So if, in the future, you happen to see someone shaking their iPhone, they may not be playing a motion-sensing game such as Drumstick (iTunes link). They may simply be trying to access their contacts list. ®